We have been proud to present our annual Local History Fair since 2013 (excepting 2020!), bringing local groups together to celebrate the variety of heritage activity in Nottinghamshire. This year the celebration was digital, featuring a selection of photographs, video, talks and presentations from groups and organisations from all over the county.
A big 'thank-you' to all those groups and individuals who took part, whether it was in supplying content, spreading the word, participating in one of our online events, or simply taking a look at the site. In particular we would like to thank the Nottinghamshire Local History Association (NLHA)  for helping to promote via their newsletter and online; the Nottinghamshire Heritage Forum for their help in promoting  the fair and for sharing lots of posts on social media; and all those individual societies who also promoted it widely to their contacts. 
 
We hope you all enjoyed a fascinating journey through the history of Nottinghamshire, and we look forward to welcoming you all back for our next history fair in May 2022!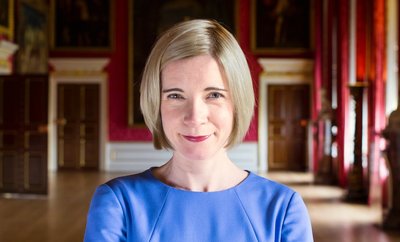 Lucy Worsley at the Great Nottinghamshire Local History Fair 2021
The headline event for this year's digital Great Nottinghamshire Local History Fair was a live online interview with Lucy Worsley!  We were delighted that the author, broadcaster, curator and former Nottinghamshire resident agreed to be interviewed by Inspire Board member John Hess.
Our famous guest was just as knowledgeable and fascinating as we see on television, and very willing to share stories of her local connection.
We received some very positive comments from the audience including:
Lovely to see one of my most admired historians give her experiences
Would certainly do this again!
Absolutely fantastic, a thoroughly enjoyable hour and a bit!
I thought it was a delightful and an informative event using a celebrity with a strong local connection.
Very enjoyable & fascinating.
Excellent event. Lucy is so amusing and interesting that you hang on her every word in all her programmes.
Just delightful!
Absolutely fabulous talk and Q&A this morning
Participating Groups
In all we were pleased to welcome 52 local history groups and organisations as contributors to the fair.
Some groups, such as Laxton History Group and Nottingham Women's History Group, have participated in our fairs for many years; others we were pleased to welcome for the first time.  These included the Nottinghamshire YMCA which celebrates its 150th anniversary this year and the Nottinghamshire County Cricket Club who presented a very topical presentation about the effects of Covid19 on the county's cricketing community.
A full list of participants is included at the bottom of this page.
Groups' contributions included presentations, videos, podcasts and quizzes.  Most pieces of content were made available to view as YouTube videos on the Inspire website and were also promoted and shared on Inspire's Facebook page @nottslibraries. These social media posts reached over 50,000 people, and over 2,500 people engaged with the content. We were pleased to see that several of the presentations sparked memories, conversations and comments about visiting Nottinghamshire places and heritage venues.
To complete this overview of the virtual Great Nottinghamshire Local History Fair of 2021, we would like to include just a few examples of the feedback received, both directly to us at Inspire, and comments we have observed across social media:
"The History Fair is brilliant. Thanks for all your hard work." (Local History Fair participant)
 "We are really pleased with the feedback.  I shared it across our various Facebook groups which helped make sure it had plenty of exposure.  I've enjoyed watching many of the other contributions.  Thanks for all your work for the local history communities." (Local History Fair participant)
 "I had a look yesterday at the website and it is all very impressive...lots of content." (Local History Fair participant)

 "We should be doing something like this too." (Civic Society in another part of the country)
And Finally….
A final thank-you to all those groups which took part.  They were:
Arnold Local History Group

Aurora Wellbeing - Heritage and Health project (Worksop)

BACKLIT - Nottingham Asylum Project
Bassetlaw Museum and the Pilgrims Gallery (Retford)
Beeston and District Local History Society
Blidworth & District Historical & Heritage Society
Bob Massey History
Canalside Heritage Centre
Chesterfield Canal Trust
Chris Rose - Local Historian (Rattlejag Morris)
Dorothy Harrison Trust - Walks of Life Museum (Tuxford)
East Leake & District Local History Society

Edwinstowe Historical Society

Farnsfield Local History Society
Flintham Museum
Friends of Nottinghamshire Archives
Friends of Thynghowe
Ice Age Journeys
Keyworth Conservation Area Advisory Group and Keyworth & District Local History Society
Kirkby and District Archaeological Group
Laxton History Group
Lydia Kirk - Young Local Historian and Junior Reporter for Mansfield 103.2 FM
Mansfield Fire Museum
Mansfield Museum
Mansfield Townscape Heritage
Mansfield Woodhouse Heritage Link
Mine2Minds Education
Miner2Major
Museum of the Horse at Tuxford
National Trust Mr Straw's House and Clumber Park
Nottingham Women's History Group
Nottinghamshire and Derbyshire Labour History Society
Nottinghamshire Building Preservation Trust
Nottinghamshire County Cricket Club
Nottinghamshire Family History Society
Nottinghamshire Local History Association
Nottinghamshire Mining Museum
Nottinghamshire Nursing History Group
Nottinghamshire YMCA
Old Mansfield Society
Old Warsop Society
Radcliffe-on-Trent World War One Group
Sam Millard - Local Historian
Sherwood Forest Trust
Southwell Minster (The Leaves of Southwell)
Sutton Heritage Society
Theatre Royal and Royal Concert Hall (Nottingham)
Thoroton Society of Nottinghamshire
Trent ARCH (Attenborough, Rylands, Clifton Heritage)
Triskele Heritage / Collingham & District Local History Society
Warsop Old Hall (Revealing Our Community Roots – Uncovering  Warsop Old Hall's Origins and History Project)
West Bridgford & District Local History Society
Events in this series
There are currently no events in this series