2020 marks 400 years since the Mayflower set sail for America with pilgrims from Nottinghamshire on board.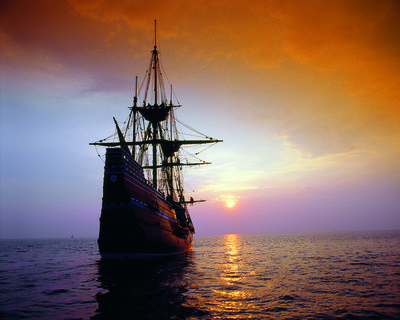 We've worked with sculptor and artist Rachel Carter as she's been tracing her Nottinghamshire ancestry and working on new art commissions inspired by the Mayflower story. Join us at some of the Spirit of Mayflower events below to see the results of that work.
Young people from our Inspire Learning courses have also been working with artist Jo Wheeler and curator Kate Stoddart to help develop a proposal for a major public arts commission to share Bassetlaw's Mayflower story. The young people were involved in the selection process of the artist and chose Hetain Patel and his project titled From the Few to the Many , which will be developed in 2020. You can read the full story here.
As well as events taking place in Inspire Libraries across Nottinghamshire you can visit Pilgrim Roots or Mayflower 400 to see the other events taking place across the county, the East Midlands and the rest of the country to mark this special anniversary.