Story Making Challenge with Jayne Williams
Writer and playwright, Jayne Williams, challenges you to create a story!
Watch and listen as Jayne retells her story of The Night the Books Came to Life
Then why not have a go at writing your own story?

Ready to create your own story?
You could write about books coming to life, like Jayne, or maybe it is the characters in the books that come to life and cause chaos amongst the shelves?  
Your story could be based on true facts  about your library or you might want to let us know all about your favourite library?  
Get writing!  We'd love to read the stories you create.
Parents and carers: If your child would like to share their stories inspired by The Night the Books Came to Life you can send them via social media @NottsLibraries on Twitter and Facebook or email arts@inspireculture.org.uk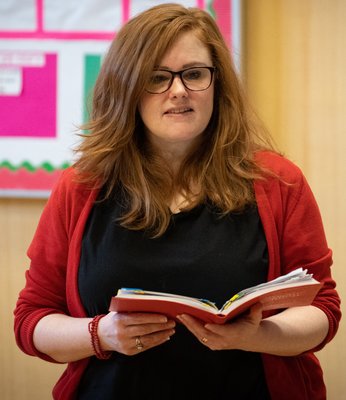 About Jayne Williams
Jayne is a writer and theatre maker who loves creating and sharing stories. The Night the Books Came to Life was created when Jayne was writer in residence with The Spark Arts for Children and Leicester Libraries.  
Jayne also wrote the play The First, based on the events of the First World War, which toured Inspire Libraries with performances for schools in 2016 and 2018 

The Night the Books Came to Life
Written by Jayne Williams © Dec 2015 for The Spark Arts for Children & Leicester Libraries