Working with The Spark Arts for Children Inspire is bringing some of the best performers and theatre companies into libraries just for school groups.
The First: a play about World War 1 for younger audiences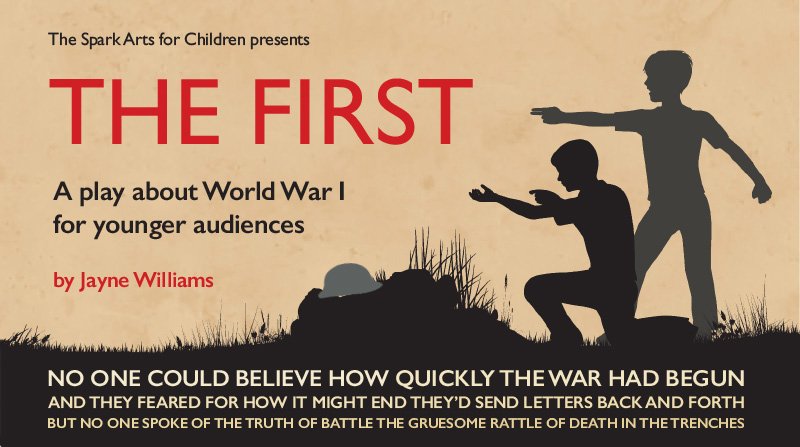 Touring Inspire Libraries:  19 - 22 November 2018
The First is a play based on the global events of WW1, told from the perspective of two boys from a small town in the East Midlands. 
Age: Year 5/6 (KS2)
Cost:  £90 per class (subsided by Arts Council England  - usual cost £160 per class)
Running time: 60 minutes
Curriculum Links
Literacy, PSHE (Friendships, Citzenship, Remembrance), History, Geography, English Literature (Creative Writing and War Poetry) KS2
| Date | Library | |
| --- | --- | --- |
| Monday 19 November, 9.30am | Beeston Library | Fully Booked |
| Tuesday 20 November, 10am & 1.30pm | Kirkby-in-Ashfield Library | Fully Booked |
| Wednesday 21 November, 10am & 1.30pm | Worksop Library | Fully Booked |
| Thursday 22 November, 10am & 1.30pm | Mansfield Central Library | Places available for 1 class at 10am performance |
For more information, or to book contact:
Steve Powell
T: 0115 804 4418
E: steve.powell@inspireculture.org.uk
The Learning Opportunity
Attending a performance in your library will open up a range of learning opportunities for your students.  The First experience can be enhanced with a number of activities, including a bespoke learning framework and a script programme from the show.  

Among Ideal Friends
is a theatre touring consortium developed by The Spark Arts for Children in partnership with library services in the East Midlands.  It is supported using public funding by the National Lottery through Arts Council England. 

Being part of the consortium means Inspire Libraries can access live theatre performances in our libraries that we are able to offer to schools at a reduced rate.    Each autumn until 2020 will see a performance particularly suited to school audiences.