A Small Tale: a teacher-led adventure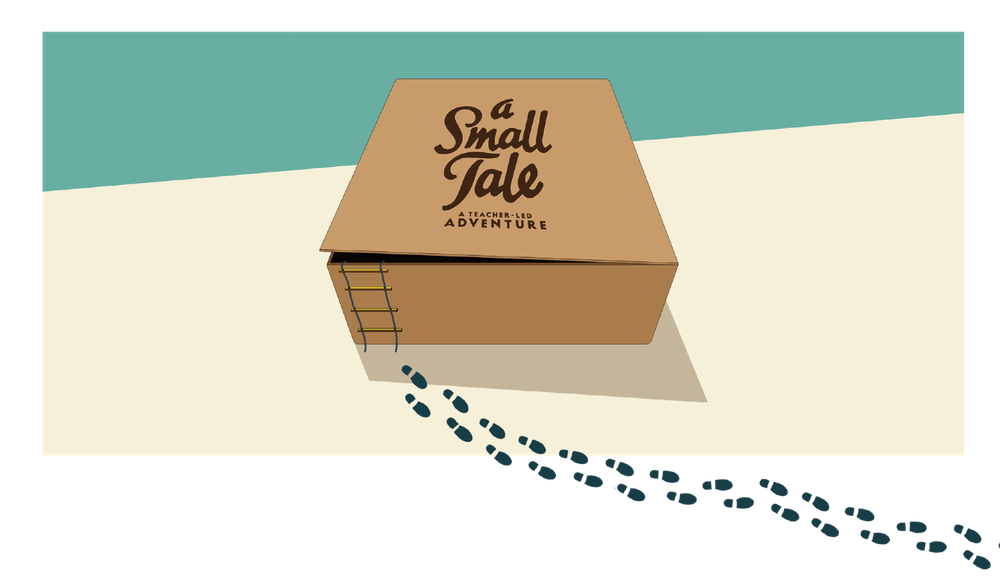 A literacy adventure with your local library - November 2021
Suitable for Years 1 – 4

A Small Tale is a magical storytelling experience for primary school children that aims to ignite and inspire a passion for writing and raise standards in reading, speaking and listening.

Watch the trailer to find out more
The teacher and their class read a mysterious old picture book about two mischievous and messy tiny people with a love of stories. But when they return to the book the following day the pages are all blank, except for two sets of tiny footprints... the tiny characters have escaped!

Will the pupils be able to get them back to safety before it's too late?
School Requirements
6 literacy lessons (1hr each day) over a period of 2 weeks - scheduled and led by the teacher.  Working with one class or multiple classes in the same year group (if delivered at the same time).
Attendance at a full day CPD to introduce and enhance the delivery of the project.

Follow up visit to return the book to the library (or library staff school visit).

Participation in short Evaluation and Legacy CPD Meeting

"The props were of such a high quality, totally believable and easy to set up. It was a pleasure to teach and reminded me why I became a teacher."
Costs
£90 per class or year group  - includes 1 teacher at CPD (£50 per additional teacher) .
(Subsidised by Arts Council England –usual project cost £360)
"The project had a big impact on reluctant writers. I had pages of writing from children who usually struggle to put pen to paper."
Project Aims
Ignite and inspire students' passion and motivation for writing.
Inspire a love of reading and writing.

Raise standards in reading, speaking and listening skills.

Develop imaginative teaching practices for literacy; placing the teacher and the students at the centre of the creativity.

Schedule and Dates
w/c 1 November:  Delivery of toolkit & props
w/c 8 November:  Full Day CPD Session
w/c 15 November: Teachers deliver sessions in school 
w/c 22 November: Teachers deliver sessions in school & library visit
w/c 29 November: Library visits by classes & evaluation and legacy CPD
"This project was brilliant.  My colleague and I were so excited about teaching the lessons and the resources that were provided were outstanding!"
Contact us to find out more or to book
Information pack: pdf to download
Among Ideal Friends
Among Ideal Friends is a theatre touring consortium developed by The Spark Arts for Children in partnership with library services in the East Midlands. It is supported using public funding by the National Lottery through Arts Council England.
Being part of the consortium means Inspire Libraries can access great theatre performances in our libraries, and online, that we are able to offer to schools at a reduced rate. Each autumn until 2021 will see a performance particularly suited to school audiences.
We are Artsmark Partners
Our libraries are proud to be supporting schools and education settings on their Artsmark journey, inspiring children and young people to create, experience, and participate in great arts and culture. We offer partnership working to education settings who are working towards, or currently hold an Artsmark Award, through a range of arts and cultural opportunities. Find out more about how Inspire Libraries can support your Artsmark journey here.

Previous productions