In 2020, with live performances not possible due to COVID-19 restrictions we worked to bring theatrical stories direct to the classroom with a new audio drama The Girl of Ink and Stars

Available until October 2021

The Girl of Ink and Stars Audio Drama

Immerse yourself in the story... wherever you are!
For children aged 7 years and over
The Spark Arts for Children in association with Inspire: Culture, Learning and Libraries has adapted The Girl of Ink and Stars from the play by Satinder Chohan, based on the book by Kiran Millwood Hargrave, into a gripping audio drama. Performed over three podcasts (available via You Tube), listeners will be transported to the mythical island of Joya from their homes and classrooms. Learn more about the audio drama here.
The Girl of Ink and Stars
Based on the award-winning book by Kiran Millwood Hargrave, The Girl of Ink and Stars tells the story of Isabella and her lifelong friend Pablo's journey into the forbidden and unknown territories of their island in a search for their missing friend.

Following her map and an ancient myth, Isabella discovers beneath the dry rivers and smoky mountains a fiery legend is stirring from its sleep…

Listen to the podcasts on YouTube below.
Key Themes:   Friendship, resilience, courage, problem-solving
Free offer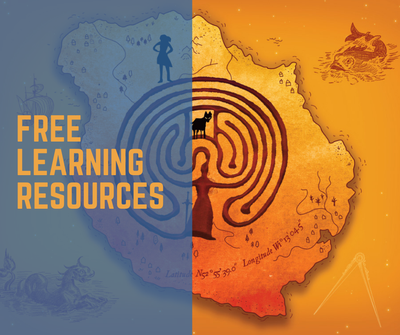 All schools can access the podcasts for free, along with a digital suite of free learning resources, providing opportunities for children to deepen their engagement with the themes, content and production of The Girl of Ink and Stars . Resources include suggested lesson plans, printable activity sheets and filmed profiles introducing the Creative Team behind the production.
Register for access to the teaching resources at The Spark Arts for Children's website
Audio Drama: Play Script
The audio drama play script is available to view and download below.
Among Ideal Friends
Among Ideal Friends is a theatre touring consortium developed by The Spark Arts for Children in partnership with library services in the East Midlands. It is supported using public funding by the National Lottery through Arts Council England.
Being part of the consortium means Inspire Libraries can access great theatre performances in our libraries, and online, that we are able to offer to schools at a reduced rate. Each autumn until 2021 will see a performance particularly suited to school audiences.
We are Artsmark Partners
Our libraries are proud to be supporting schools and education settings on their Artsmark journey, inspiring children and young people to create, experience, and participate in great arts and culture. We offer partnership working to education settings who are working towards, or currently hold an Artsmark Award, through a range of arts and cultural opportunities. Find out more about how Inspire Libraries can support your Artsmark journey here.