"Reading for pleasure...brings benefits that help pupils achieve more across the whole curriculum." 
Reading: the next steps, DfE, March 2015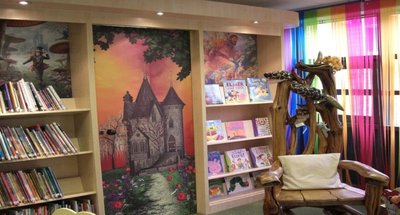 The ELS can help you encourage children and young people to read for pleasure. 
We stock a wide range of quality fiction which is selected and reviewed by our professional librarians.
Our librarian team can offer expert advice on fiction to suit your pupil's needs. We can put together project collections for your classroom, at your request, to stimulate reluctant readers.
Mobile Library Visits
Pupil engagement in books and reading is often increased when there is an opportunity to make a personal choice of reading matter.
An ELS mobile visit to your school can help in promoting reading for pleasure. Please see further details of our mobile library service. 
Book Clubs
"Book clubs are an excellent way of encouraging pupils to read widely and frequently." (Department of Education)
The ELS can help you with creating and sustaining book clubs in your school.
Book clubs can benefit your school in a number of ways including:
Raising literacy standards

Increasing positive attitudes to reading for pleasure

Raising overall attainment of pupils.

ELS can support book clubs by providing titles as part of your loan collection
Tailored to your pupil's needs

Selected by professional librarians

Regularly delivered to your school.
Book Talks
ELS offers book talks and storytelling to primary school pupils. Our professional librarians can come in to your school and read stories to groups of Key Stage 1 children, and promote new fiction to Key Stage 2 students.
ELS also offer CPD Book talks to Primary Staff, these can be delivered virtually via Teams or Zoom.

Book talks and storytelling sessions are a great way to:
Enthuse children about reading
Promote reading for pleasure
Raise literacy standards
Update and widen your own book knowledge.
Download one of our flyers or contact us for further information.

Brilliant Book Award
Find out more about the Brilliant Book Award and how it promotes reading for pleasure in Secondary Schools for young people in years 7 to 9. 
Author Visits
Hosting a local author in your school is a great way of promoting reading for pleasure. The ELS can help you by signposting to local authors who are available to visit schools. 
Please contact us if you are considering booking a local author visit to your school.
Best Fiction Lists
Our professional librarians review all new fiction purchased by ELS and produce recommended fiction lists every term.
We produce three distinct lists:
Fiction lists are emailed to schools towards the beginning of each term and can be downloaded from our Best Fiction List page here. Books from these lists can be borrowed from the ELS.
Titles from the lists may also be purchased from Peters, the specialist children's book supplier. 
Please contact us or see our School library advice pages for further information about Peters.