The Minster School

Our partnership with The Minster School reflects our ambition to develop a CPD network for specialist and non-specialist music teachers in Nottinghamshire.   This will be achieved by first auditing the CPD needs of specialist and non-specialist teachers of music in primary and secondary schools in Nottinghamshire, and then developing a programme of CPD music activities including network meetings, conferences and events and online resources supported by a range of organisations.
Our current CPD network programme details are here Primary 2017-18  and Secondary 2017-18. 
Orchestras Live

Orchestras Live is a national music charity that brings professional orchestral music to thousands of people in under-served areas across England. Our mission is to inspire, motivate and empower the widest range of people through excellent live orchestral music.
We work in partnership with local authorities, Music Education Hubs, venues and other promoters as well as numerous British symphony and chamber orchestras to bring high quality concerts and projects to communities and audiences that would not otherwise have the chance to experience them.
The partnership between Orchestras Live and Nottinghamshire Arts & Sports for Children & Young People will see annual creative projects involving young people in the north of the county working and performing with different orchestras such as City of London Sinfonia and Orchestra of the Swan.  This will contribute to the extension role of the Nottinghamshire Music Education Hub: providing access to large scale and/or high quality music experiences for pupils, working with professional musicians and/or venues.
Our projects for Nottinghamshire Music Hub include;
2017 Able Orchestra BBC Music Day concert with students from Fountaindale School and Outwood Academy Portland and Halle Orchestra players. 
2016 Able Orchestra  at the BBC Ten Pieces Prom, with students from Fountaindale School and Outwood Academy Portland and Halle Orchestra players. 
2016 Manchester Camerata – creative music workshops with Sutton Centre Ashfield and Create Theatre, West Notts College Mansfield
2015 Able Orchestra with  students from Fountaindale Special School, The Brunts School  and BBC Concert Orchestra players.
2014 First Time Live – Youth , with City of London Sinfonia & 9 Mansfield area schools
2013 Thoresby Suite with students from the Dukeries College, St Mary's  Promary Edwinstowe and members of the Orchestra of the Swan.
Theatre Royal and Royal Concert Hall

We have been partners with the Royal Concert Hall delivery team since 2012. The team provides our network area with a wide programme of activity and opportunities for progression in a range of musical genres. Together we are able to host major concerts for children and young people from Nottinghamshire schools and provide activities which support progression routes for young musicians to develop their talents through working with professional musicians.
Coming soon... details of our annual schools concert Now Hear This!* with its' popular Adopt a Halle Player offer
SAVE THE DATE: Thursday 28th June 2018 -      *Psst...New to Now Hear This? Check out last years format here:
Furthermore every April and May they are able to offer CPD sessions for music teachers in association with Halle Orchestra Education Director Steve Pickett.
The Royal's Nottingham Classics programme run the Go Classics and Go Classic Teachers scheme, which offers our children, young people and their teachers huge discounts on concert tickets, enabling them to attend orchestral concerts in their acclaimed international concerts season. Apply here www.trch.co.uk/goclassics
2016 Percussion wksp: With musicians from London Sinfonietta for intermediate students
Supergroup Showcase: Annual County Youth Arts music showcase, industry Q&A and band launch
Minimalism concert: KS3+ London Sinfonietta concert for schools
Woodwind Masterclass: Led by The Sterling Trio, for intermediate and advanced students
Now Hear This! Annual Come & Play with The Halle primary phase schools concert at The Royal Concert Hall, Nottingham
2015  Supergroup Showcase: Annual County Youth Arts music showcase, industry Q&A and band launch
Now Hear This! Annual Come & Play with The Halle primary phase schools concert at The Royal Concert Hall, Nottingham
2014 Now Hear This! Annual Come & Play with The Halle primary phase schools concert at The Royal Concert Hall, Nottingham
Masterclass:  Led by visiting professional Tafahum for our Advanced Music Ensemble students
Music Clinic: Canada's National Arts Centre Orchestra led masterclass for our Advanced Music Ensemble players
2013 Now Hear This! Annual Come & Play with The Halle primary phase schools concert at The Royal Concert Hall, Nottingham
Sinfonia Viva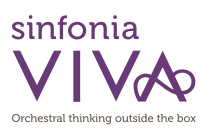 Sinfonia Viva was founded in 1982 and is a national orchestra based in the East Midlands.  We have a strong reputation and track record in collaborative and participatory music making, giving thousands of young people from across the region the opportunity to work closely with and perform alongside the Orchestra each year.  Sinfonia Viva is a creative music organisation offering relevant and enriching experiences for all.
Sinfonia Viva will work closely with the Nottinghamshire Music Hub to devise and deliver bespoke projects which involve creative music making opportunities for young people in Nottinghamshire.
Sinfonia Viva will offer young people the chance to attend concerts with ticket deals where possible, and will offer Hub schools and groups the opportunity to participate in pre-concert learning events
Sinfonia Viva will look to collaborate with Nottinghamshire Hub partners in a range of creative and relevant ways including CPD opportunities for teachers/music service staff
Click for details of our projects with Nottinghamshire Music Hub
2014 Spring 'Raising The Grade' GCSE concert
soundLINCS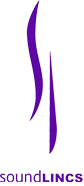 SoundLINCS is a not-for-profit community music organisation operating across the East Midlands. Working in partnership with local, regional and national organisations, soundLINCS provides and develops high quality and innovative music-making opportunities and training for all ages and communities.
We provide music workshops and residencies in most music and multi-arts genres; african drumming workshops, samba workshops, rock & pop, singing and vocals, DJing, music production & technology.  You name it, we can usually deliver it!
soundLINCS provides a quality service for music which enhances, enables and encourages the development of music in an enjoyable way, through activities, advocacy and access to information.
Our vision is that everyone has an opportunity to be empowered through music.
Our mission is is to be the foremost music development agency in the East Midlands, working in partnership with local, regional, national and international agencies to provide and develop high quality, creative and innovative music making opportunities which acknowledge the unique needs and reflect the individual circumstances of the diverse communities and organisations with whom we work.
Music for Everyone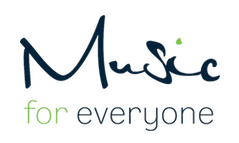 Music for Everyone is an independent arts organisation with over twenty-five years' experience in devising and running innovative music participation events across the East Midlands.
Covering an unusually wide range of activities and participants, our work:
Opens up music-making to people of all ages – from 6 -86

Creates music-making opportunities for over 1800 participants each year

Caters for all abilities in an atmosphere of inclusiveness

Works across the community, including schools and youth projects and linking to sports and health initiatives
Music for Everyone has eleven performing groups, both adult and youth, choral and instrumental, involving over one thousand participants. We also present a varied programme of high quality concerts per season.
Nottingham Youth Jazz Orchestra

The Nottingham Youth Jazz Orchestra (NYJO) runs 3 bands that provide a great place for young musicians in Nottinghamshire to develop their skills and enjoyment of playing jazz as part of a group.
NYJO is about performance, using rehearsals to learn new tunes and to get the sound right.  There are 3 Bands: NYJO2 is a development band, NYJO1 an 18-piece Big Band and the 8-piece NYJO Jazz Combo features more improvisation.  NYJO bands entertain locally and tour to the Edinburgh Fringe Festival.  NYJO also plays 'crossover' music with orchestras and singers.
Players benefit from the inspirational instruction of gifted tutors who promote shared learning and support, and a joy for jazz.  NYJO provides a great mixture of experiences that develop life-skills as well as musical abilities.  In addition to weekly term-time rehearsals, students gain from workshops, organising gigs, sound recording, busking, jazz professional mentors and more.
Confetti Media Group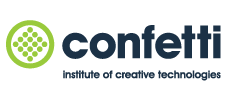 Confetti Institute of Creative Technologies, part of the Confetti Media Group, is a unique, custom designed facility; home to a forward thinking centre for learning, which runs alongside a commercial record company, a film post-production company and a creative industries networking centre.
Over 1000 students a year come to Confetti to study courses at all levels in music technology, TV and film, games technology, radio and events production. Confetti has unique links with industry and our students learn and perfect their skills on state of the art equipment.
To find out more about the courses on offer and our open days visit: www.confetti.uk.com.
Confetti has great relationships with schools and teachers. If any teacher or school would like to talk to us about the services we offer, please contact Eddie Dorey, Head of Partnerships. E-mail: Eddie.Dorey@confetti.uk.com.
Nottingham Music Hub

The Nottingham Music Hub is a partnership of key local and regional music organisations, led by Nottingham Music Service, working together to create joined up, high quality music education for children and young people in the city of Nottingham, in and out of school.
Nottingham Music Service runs the Nottingham Music School on Saturday mornings at The Nottingham Academy in Bakersfield which is open to all young people, providing opportunities to play in ensembles, bands and orchestras, including World and Pop/Rock music.  Go to their website for more information on what's available, and how to join.