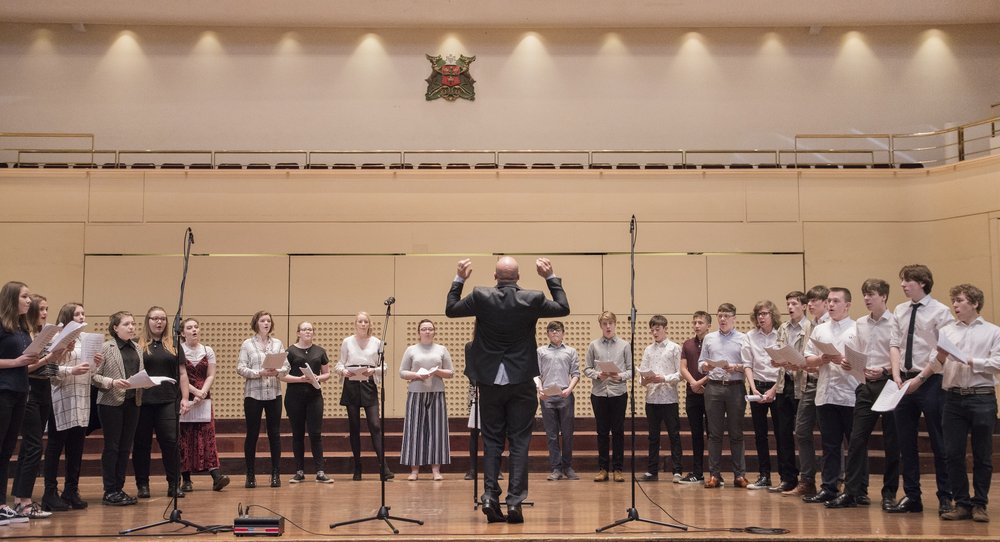 Nottinghamshire Music Hub
* Developing singing strategies
* Supporting school choirs
* Providing high quality vocal opportunities
* Creating pathways to excellence
PROMOTING CHORAL EXCELLENCE ACROSS NOTTINGHAMSHIRE
Partnership - NYCGB National Youth Choirs of Great Britain September 2016 to Spring 2019
Since 2016 we have been working in partnership with the National Youth Choirs of Great Britain and the Royal Concert Hall Nottingham to create new opportunities for choral excellence in schools  across Nottinghamshire. Our ambition was for 10 secondary schools to engage with us across the 3 year partnership.
Within the partnership we were able to create a programme of workshops and events for children and teachers to develop choral skills, create vocal ensembles, and encourage outstandingly talented and promising students to develop their abilities to national standard. Initially we supported pupils and teachers with in-school NYCGB led singing workshops. These really helped develop choral skills and provided extra support for schools with both specialist and non-specialist choir leaders to develop their own high quality a cappella ensembles and enrich their singing strategy.
The partnership also provides high profile performance opportunities in partnership with the Royal Concert Hall Nottingham. Their 2250 seat auditorium with internationally revered acoustics is an impressive performance platform, and is key is raising the aspirations of our young performers. Typically we use this space twice a year, challenging our choirs to develop a cappella pieces in-school before performing in front of a public audience in late Spring as part of the Live at Lunch series, and December at the Inspired Christmas concert.
Finally, this partnership aimed to encourage talented and promising students to develop their artistic abilities to a national standard. Working closely NYCGB artistic directors, we created a pathway for talented singers to progress further onto a regional and national platform. National auditions were hosted in Nottingham, and participating school choirs were signposted to this. Inspire staff were able to offer pre-audition coaching to talented individuals and to get students thinking that this could be for them, and that support was available if they wanted to take their interest further. The NYCGB legacy is our Hub's new a cappella choir, formed in the Summer 2018 'Inspired Voices'. The choir made their Royal Concert Hall solo performance debut in December 2018, and on 15th April 2019 will perform on stage with the National Youth Choirs in Nottingham.
Further legacy activities will be announced in Summer Term 2019.
*Inspired Voices now have their own page! Get details of how to join and their past / future activity programme here:

Inspire YOUR school: 

WATCH our 2018 partnership film Does School Choir Matter
DEVELOPING SKILLS THROUGH SINGING
Partnership - Voice Choice Nottingham  Since 2017, ongoing.

Voice Choice create dynamic workshop programmes suitable for young people with little or no musical experience using the medium of opera to develop artistic skills and build self confidence. We have specifically chosen to engage with schools in the Ashfield district of Nottinghamshire which has low cultural engagement and higher than average levels of Free School Meals eligibility. 
The current model works with a Secondary, and one of its' feeder Primary schools. In the Primary, Year 6 pupils who will benefit most from a 'soft' transition to Year 7 are selected to work with Year 9 mentors ahead of the September start of term.
Voice Choice staff include professional musicians and opera singers. Pupils in Year 6 and Year 9 are supported in their development of new creative skills, specifically working on song writing, performance and acting skills, while building up self belief, self confidence and raising aspirations. Year 9 sessions also support their skill development. Talented Year 9 performing arts students receive focused support to develop their young leaders skills, are enrolled on a Discover Arts Award pathway, and supported in delivering a community project in partnership with their local feeder primary school. 
The project finale is a community attended in-school workshop performance in which the Year 9 young music leaders, primary students and community participants perform alongside Voice Choice's professional musicians and opera singers. The audience typically comprises friends, parents, teachers and members of the wider community, and for many it is their first experience of watching live professional musicians. Recent projects with Voice Choice have included scenes from Macbeth and Mozart's The Magic Flute. Their excellent end-of-project videos share the impact of their work on pupils, participating schools and the wider community.
Inspire YOUR school:
Watch their 2018 project video - Sutton Community Academy
If you have any questions, or want to chat about your requirements at KS3+, please email us at nottsmusichub@inspireculture.org.uk