Nottinghamshire young musicians are working alongsideprofessional musicians from Chineke! Orchestra as part of the Share Sound inclusive ensemble project.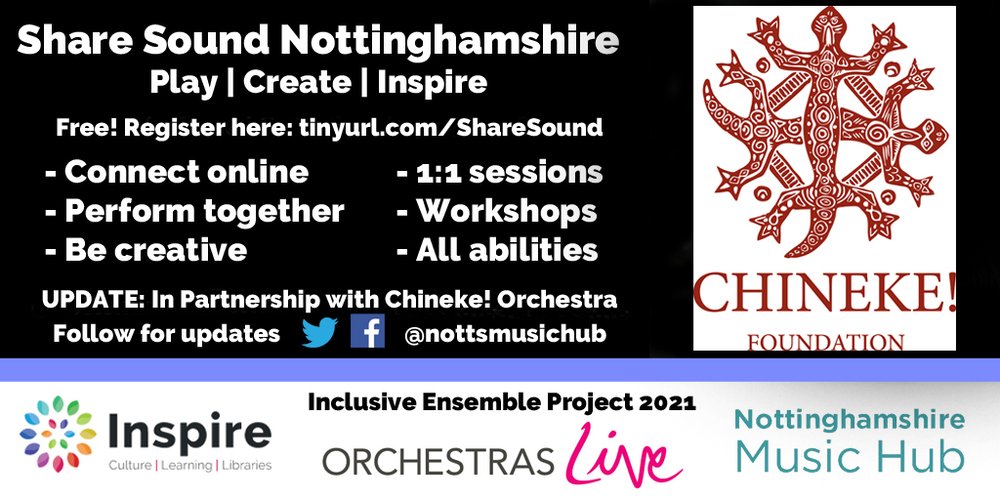 This academic year we are working with Orchestras Live and Chineke! Orchestra musicians to address the challenges of supporting young musicians who have been unable to meet and play together in their usual ensembles during the Covid 19 crisis. Orchestras Live has developed an inclusive ensembles project, open to all abilities to help address this situation. 
Share Sound is a structure of online workshops, rehearsals and performance led by a diverse artistic team of music leaders, orchestral musicians and Inspire Music teaching staff, enabling young people to compose new material and curate an online sharing event, currently scheduled for Summer 2021..
**Registration for this ensemble has now closed.**
Any questions, please email us c/o nottsmusichub@inspireculture.org.uk
Learn more about Hub partners Orchestras Live here:  www.orchestraslive.org.uk/
Follow Orchestras Live   Facebook    Instagram    Twitter
Learn more about Chineke! Orchestras here: www.chineke.org/
Follow Chineke!  Facebook   Instagram   Twitter
Sorry!  REGISTRATION is now  **CLOSED**
Project update 15.4.21 
Share Sound's Artistic Director James Redwood and Orchestras Live's Stuart Bruce discuss the project's surprising creative outcomes.