Interested in pursuing a career in construction? Our course will provide you with your first steps into the industry.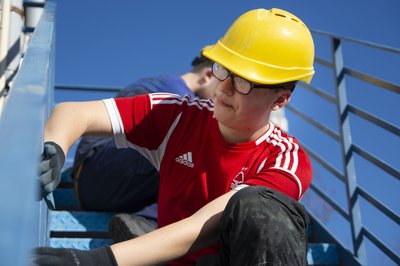 What can I expect?
The course will be assessed by theory and practical work modules. No final test examinations are required. 
Level 1
You will learn to perform real construction tasks such as:
Learning the mandatory health and safety requirements 
Learning, using and developing brickwork trowel skills
The basic principles of brickwork construction, setting out, building level, plumb and to gauge
Building half brick wide walls, one brick wide walls, cavity walls and block walling 
Level 2
Once you have completed Level 1, you will be eligible to undertake the Level 2 progression. You will learn:
More complex structures
Different brickwork bonds
Professional industrial standard of workmanship 
Progression and Careers
You may wish to progress on to a Level 2 or 3 course in Bricklaying, another vocational course, Traineeship, Apprenticeship, Traineeship or employment in the industry. 
Locations
This course is based at Eastbourne House, Sutton-in-Ashfield. 
Get in touch!
To enrol or to find out more, call 01623 476 830, email learning@inspireculture.org.uk or just pop in to one of our bases! You can also pick up one of our brochures from a local library.