Our next intensive Project Management course starts 29 April at Nottinghamshire Archives - Enrol today!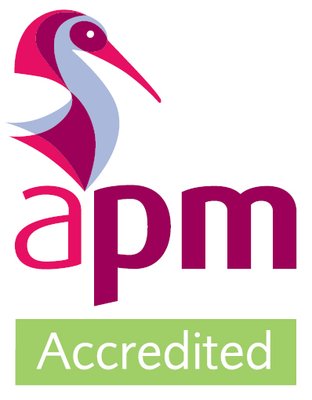 What is project management?
Definition
'Project management is the application of processes, methods, knowledge, skills and experience to achieve the project objective'.
APM, Body of Knowledge. 6th Edition.
General
A project is a unique, transient endeavour, undertaken to achieve planned objectives, which could be defined in terms of outputs, outcomes or benefits. A project is usually deemed to be a success if it achieves the objectives according to their acceptance criteria, within an agreed timescale and budget.
APM, Body of Knowledge. 6th Edition.
Associate Project Management Apprenticeship Level 4
Inspire Learning are excited about delivering the associate project management apprenticeship and have recently become an accredited centre with Association of Project management. We endeavour to work with local and national organisations to create a robust programme of study for their project management apprentices.
Our programme includes:
7 classroom days to cover theory relating to project management.

Full preparation of all apprentices for The Project Management Qualification (PMQ) -  Level D, which is internationally recognised.

Creating a plan of delivery which will allow the apprentices to demonstrate the skills and knowledge needed to become a project manager, project co-ordinator or a project specialist.

FREE associate membership of the Association of Project Management whilst studying.

Preparation for the end assessment
Throughout the 18/24-month programme, themes covered will include:
 Project management theory.

Governance and the importance of stakeholder management.

Leadership theories and communications styles.

Risk and issue management.
Whilst working with your organisation, Inspire will develop a programme to help you create your future project managers, who will have the skills to deliver projects with confidence. 
Knowledge of the Principles of Project Management
Knowledge of project management is assessed by exam which is taken within 10 months of starting the apprenticeship. This is a 3 hour written exam with 10 questions answered from a selection of 16 options.  Preparation will consist of workshops and e-learning and apprentices will be expected to study practice questions and undertake a full mock exam before taking the final exam.
Skills and Behaviours Workshops
Apprentices will learn how to use and apply the theory and techniques of project management. Project management practical tasks will be covered in the workshops to develop the practical skills of project management, including stakeholder management, project scope, financial control, and managing risk.
Work Based Project
The apprenticeship programme will enable the apprentice to apply the skills they have developed in the workshops, along with application of theory in a workplace project. This workplace project will be agreed with the organisation prior to the start of the apprenticeship.
End Point Assessment
Once the apprentice has completed all the skills, knowledge and behaviours based activities they will submit their portfolio to their chosen endpoint assessment organisation. They will then present some of the best work and be expected to answer questions by a panel of up to three people.
Inspire Learning launched this programme early 2018, delivering to apprentices who are employed by Lincolnshire County Council. 
For more Information