Are you interested in working in the food and drink industry? Do you like talking to and meeting new people, or do you like to work behind the scenes?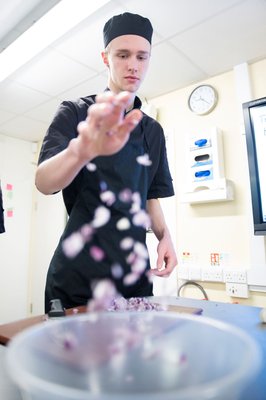 During your time with us you'll cover subjects such as: customer service, serving food and drink, using kitchen equipment, basic food preparation and food safety. 
Plus:
Tutors will use the most up-to-date teaching resources to make the classroom lively, fun and entertaining! 
Some classroom work 
Practical cookery sessions with your tutor in our professional catering kitchen with 1:1 help at all times
Exciting trips relating to the hospitality industry such as hotels, restaurants, theme parks and leisure parks 
A choice of work placements or community projects to get involved in 
"Thanks to Inspire I've gained good work experience with the RSPB at Sherwood Forest Visitor Centre Café. I've really enjoyed learning new things as a Barista. I've been serving customers, making drinks, cleaning and learning till work. I hope to go in to management in the future" 
You may wish to progress on to our Level 2 Diploma in Hospitality Services. You could also gain employment in the sector, continue on to another Level 2 course, or do a Traineeship or Apprenticeship. 

There are lots of jobs and careers on offer in the food, drink, and entertainment industry such as:
Chef 
Kitchen Assistance
Waiting Staff
Hotel Staff 
Bar Staff 
Retail 
This course takes place at our Mansfield base, MyPlace at the Westfield Folkhouse. 
To enrol or to find out more, call 0115 804 3611 email learning@inspireculture.org.uk or just pop in to one of our bases! You can also pick up one of our brochures from a local library.