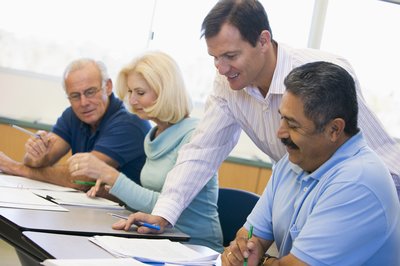 Level 3 Award in Education & Training
The Level 3 Award in Education and Training is an introduction to the teaching, learning and development (including practical teaching skills) which reflect the context in which you teach. 
This qualification is suitable for those who work or wish to work as teachers in adult community education; teachers/trainers in the voluntary sector; and training personnel in commerce, industry, the public sector or HM forces.
Is it for me?
You will need a good standard of English, maths and IT and ideally hold a qualification at level 2, but this can be gained whilst on the course.
You will need to have good communication skills both written and verbal.
It is also recommended that you hold a level 3 or equivalent in the subject matter you are teaching.
What does the course cover?
You'll learn skills to enable you to refine and improve your teaching and learning. You'll also learn constructive reflection to enhance your continuing professional development.
The practical assessment of this teaching course requires 1 hour of micro-teaching practice which includes observing other tutors in practise.  
The course is made up of 3 units, which focus on the roles, responsibilities, relationships within the classroom and the use of different types of assessment. 
How long is the course?
This is a 12 week course, studying for 2 ½ hours per week.
Your total study time will be 30 hours.
What are the progression opportunities upon completion?
Upon completion, you could consider progression to:
How much does it cost?
This course costs £395.
Payment can be made in instalments – please ask us for details.
How to enrol