Come along and take part in FREE fun family activities as the library becomes a Fun Palace! Have a go at arts, culture and science as the Fun Palace makes everyone an artist and a scientist. All ages and abilities can take part and every area of the library holds a fun activity - can you get around them all?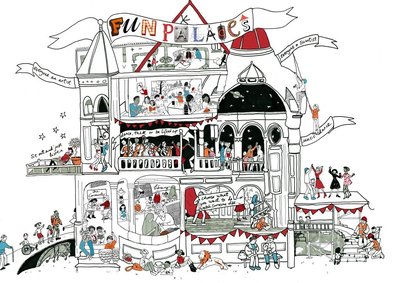 DISCOVER
Building, circuit-making, Virtual Reality, coding, candy-floss making and more! Find your inner scientist with our games, activities and workshops designed to ignite your senses and develop your skills.
CREATE
Have fun making, creating and crafting in a variety of art activities. Make a butterfly badge, write, draw, paint a palace in our little painting challenge in the new Art Room, or create crazy spin pictures.
PERFORM
Rock up to our performance stage! Your chance to watch, listen, play or sing-a-long with a range of bands, choirs and groups – from Glee Choir to the Red Hot Swing band.
PLUS!
Visit our Big Draw exhibition and wonder at the sparkly spectacle of light up drawings made in Libraries across the county in 2016. Make a light up drawing of your own where the science of circuits meets art! Inspire artist Sue Rowland and Leicester Print Workshop have worked with groups to create a unique Nottinghamshire 'Myriorama'. The series of printed artworks on display form a landscape scene which will also be used to inspire your fun palace poems!
Email: beeston.library@inspireculture.org.uk