| | |
| --- | --- |
| Date | - |
| Time | All day |
| Venue | West Bridgford Library |
Voices presents a thought-provoking collection of poetry created by people whose voices, for health, social or age-related reasons, are rarely heard, combined with photography of those involved.

Award-winning poet Ben Norris worked with four very different groups across Nottinghamshire to develop a body of poems that express their emotions, experiences and stories. The four included elderly people living with dementia, adults with learning disabilities, refugees, and people living with, or affected by, mental health issues.   
The sessions, and individuals involved, were photographed by lens-based artist Ben Harriott. The resulting works were curated into this inspiring exhibition. 
From a note by the poet, Ben Norris:

"For many of the writers, this was . . . a first introduction to poetry, or a first re-introduction since school, so it was important that above all we had fun, finding joy in language, and accidents of language, and discovering things we might not ordinarily read. For some, English isn't their first language, which gave rise to wonderful discussions and writing, as we encouraged ourselves to lean into any slipperiness of meaning, and to set up camp in the ambiguities that arose. One of poetry's defining characteristics, for me, is its bending or breaking of the rules, or entirely redefining what language can and should be for. . .
I would like to thank the participants for their honesty, their bravery, their willingness to try new things, to make themselves vulnerable, and to open their lives to me."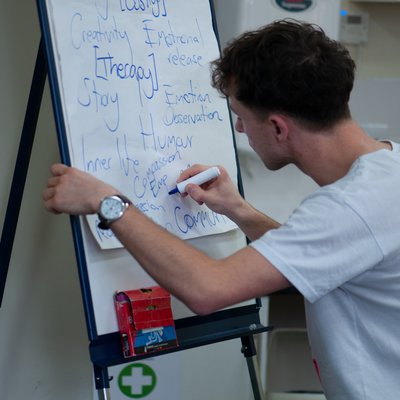 Voices was a community poetry project that aimed to harness the power of poetry to bring unheard voices to the front. The project was led and facilitated by writer and performer Ben Norris, with photographs by Ben Harriott, in collaboration with Inspire: Culture, Learning & Libraries. It was supported with funding from the National Lottery through Arts Council England.
Voices will tour Inspire libraries between 2019-2020. 
The four groups that participated in the project were:
Nottingham and Nottinghamshire Refugee Forum - Youth Project: Supporting young people living in asylum-seeking families, separated young people in care of the local authority, and young refugees. The project seeks to reduce social isolation through events and activities.
Building Bridges (West Bridgford): An open group for anyone who wants a supportive space and understanding for their mental health and wellbeing, with a view to forming long-term friendships and support in their community. The group is run in partnership with Nottinghamshire County Council and Renew 37 - New Life Baptist Church.
Bassetlaw Day Services (Worksop): Providing a varied programme of activities, services and social opportunities to a wide range of people aged 18 and above, including those with learning difficulties, physical difficulties, mental health concerns and the elderly.
Woodleigh Christian Care Home, (Mansfield): Residential, nursing and dementia care, embracing people from all backgrounds. Woodleigh's experienced and dedicated staff work hard to provide residents and their families with a welcoming and supportive environment.

Simply turn up and take part. We look forward to seeing you!
Get in touch...
By phone

By email