PLEASE NOTE: Sold Out
| | |
| --- | --- |
| Date | |
| Time | - |
| Venue | Online Event |

Kickstarting your Creativity: Creative Writing Workshop
Join us for a fun, friendly & informative creative writing workshop, with loads of prompts and tips to kick-start your creativity!
Are you looking for ways to kick-start your creative writing? Perhaps you'd like to brush up on your skills, improve your writing, or try writing again after an extended break? Maybe you're stuck in a rut, or struggling with writer's block, and you'd like to find new ways of approaching your writing? Or maybe you've never written creatively before, and you're a little bit curious? This workshop is all about learning by experimenting, trying new things and having fun with your writing! 
This workshop is suitable for adults of all ages and abilities, from those just starting out on their writing journey to those who are already writing regularly. All you need is a pen, paper and access to the internet!  

This event is SOLD OUT

This event will take place on Zoom.  In order to access this workshop, you will need an internet connection, and a computer with built-in camera or webcam, and a built-in microphone or speaker.
The link to join the session will be emailed to you ahead of the session.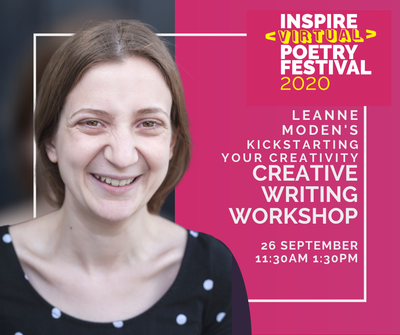 Leanne Moden is a poet, performer and workshop leader, based in Nottingham and she runs the Paper Crane Poets at Beeston Library.
Leanne's latest collection of poetry, 'Get Over Yourself' was published in July 2020.  Visit Book Talk to hear her discussing this project. 
You can also enjoy the videos of her guest appearance in Henry Normal's Epic Tour.
Read more about Leanne Moden on  her website: www.leannemoden.com