Published 21st November 2016
Showcase 2017
SHOWCASE is an opportunity for any young person age 13 - 19 years, to take part in a major performance event.  Whether they can sing, dance, act, mime, play in a band, perform poetry or do any other creative performance, we want them to take part. Young people take centre stage in a professional theatre and show off their talent!
The auditions take place on 25, 26 & 27 November &  1& 2 December 2016 at The Old Library in Mansfield.

Rehearsals will take place in the afternoon to help and support their performance. Friends and family are invited to the evening Showcase at 7.30pm.
Successful participants will then go forward to take part in next year's main Showcases – at the Palace Theatre, Mansfield and at the Royal Concert Hall, Nottingham. 
APPLICATIONS FOR SHOWCASE 2017 ARE NOW CLOSED
CYA Summer Round Up...
Able Astonishes Albert Hall Audience!
Young musicians from CYA's amazing Able Orchestra put on a triumphant concert with the BBC Philharmonic Orchestra at London's Royal Albert Hall. Students from Fountaindale School in Mansfield and Outwood Academy Portland in Worksop played to a full house on 23rd and 24th July as part of the BBC's prestigious Proms Season 2016, and to viewers and listeners on BBC Red Button and BBC Radio 2 & 3.  It showcased this innovative music programme that features disabled and non-disabled young musicians  developing new pieces of music and digital imagery to perform with national orchestras using digital music technology. Co-produced with Orchestras Live, a national music producer, the young musicians performed with the BBC Concert Orchestra and then the Hallé Orchestra on the BBC Ten Pieces national scheme.  And the rest is history!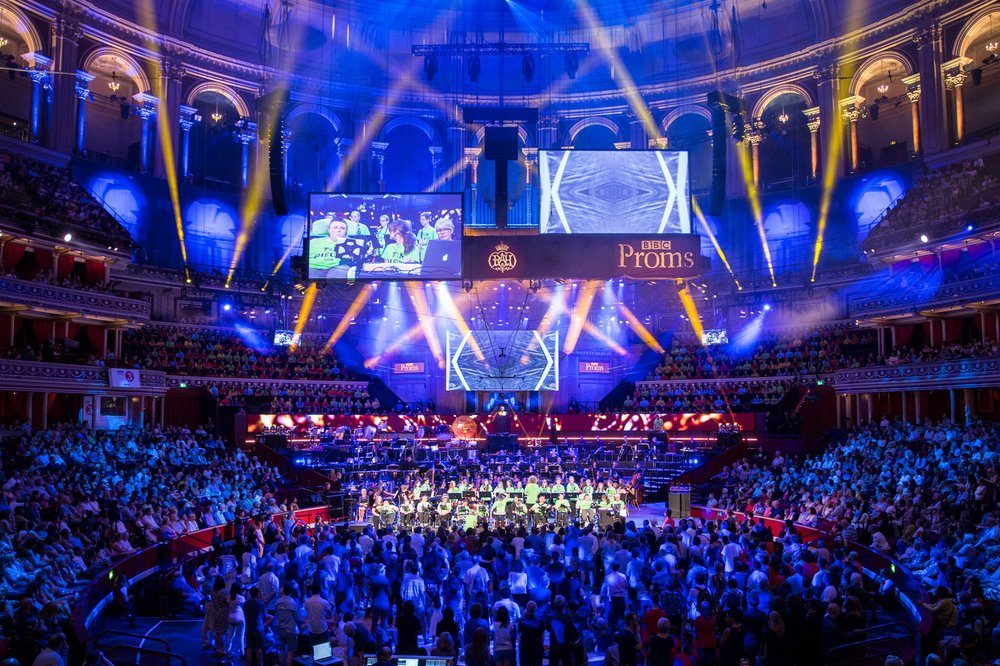 Other Summer Highlights
BBC The Beat gig as part of SONAR Music Industry Week, featuring CYA signed Supergroup 'Earth Below' EP launch
500 participants at workshops and masterclasses during SONAR

300 performers across 5 dance, drama and music performances at TOLFest
Innovative dance & media performance of 'Peach' featuring talented young Notts dancers at The Old Library 
Two films and a dance performance at UDance 2016 National Festival at The Lowry, Salford
Programme of Summer Schools featuring 'Peach' project, Singer Songwriter Academy and Supergroup
'The Spike' & Pride film 'A Place of Dreams' both showcased & received special recommendations at The Nottingham Film Festival 2016
Summer Fest Fest including - Hemlock Happening, Party in the Park, Gedling Show...
Coming This Autumn
COMING THIS AUTUMN...
@ THE OLD LIBRARY
Young People's Arts Programme from September 2016:  
MON  5.30 – 6.30pm: Junior & Intro Street & Break Dance Crew  *  7 – 9pm:  MX4 Street Dance Crew                     7 – 9.30pm:  Steel Pans
TUE  5.30 – 7.30pm: Singer Songwriter Academy   *  6 – 8pm:  NNYDC - North Notts Youth Dance Co                    8 – 9.30pm:   The Prototypes – Boys Street Crew
WED 4.30 – 6pm:  Visualize – Visual Arts Project   *  6 – 9pm:  Red Hot Band – Swing Band
FRI   3.30 – 6pm:  Unanima Theatre Company – Inclusive Theatre  Co 18+ 
         5 - 6pm Genetic Hype - Popping Crew
SAT  9.15 – 10.45am: Junior Rock School – 7 – 11yrs  *  11am – 1pm:  Senior Rock School – 12 – 19 yrs
The Old Library Theatre Programme
CYA to showcase the regions young and emerging theatre makers and artists as well as giving audiences fresh, innovative and affordable productions.  .  
Getting Better Slowly (National Tour)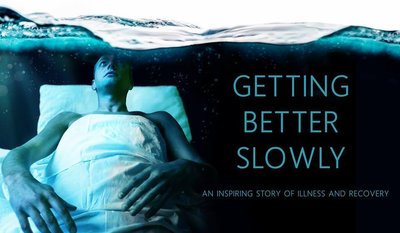 Friday 14 October & Saturday 15 October, 7.30pm
The Old Library, Mansfield
Tickets £11/£9 concession from Lincoln Drill Hall Box Office/ 01522 873894
What if you woke up to find your body was slowly shutting down? Unable to walk, talk or blink and nobody knows why...
When Guillain Barré Syndrome affected Adam Pownall it caused full paralysis within days.
Getting Better Slowly tells his inspiring story of recovery through new writing, sound and movement. Funny, moving, and honest, Adam's journey through illness and rehabilitation including months re-learning how to walk and talk invites audiences to consider how they would deal with an unexpected illness or accident, and explores how it feels when your closest relationship is with the illness that's holding you back.
https://www.facebook.com/events/1754944118078980/
@GBSproject
Love. Life. No Sat Nav.
Friday 21 October 7.30pm 
The Old Library 
Tickets  Unanima Theatre -Pay What You Decide
Love. Life. No Sat Nav is a new play by award winning Unanima Theatre that takes audiences on the road trip of life and explores how we have all stalled at the junction of love without that road map to guide us through.

Telling the stories, scenarios and experiences of an ensemble cast, expect some laughs in the lay-by alongside the occasional hard shoulder. Take a trip down the slip road of sublime live music in this unique tale told with honesty, style and wit. Buckle up and enjoy the ride.
With original songs by Tash Bird. All performances are captioned.
www.unanima-theatre.co.uk
     @unanimatheatre
The First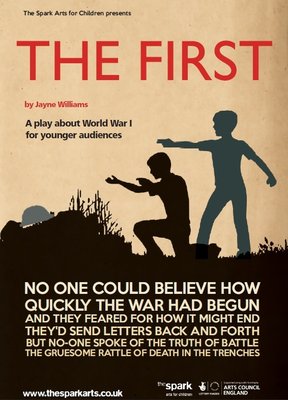 Thursday 17 November & Friday 18 November, 10.30am & 1.30pm
The Old Library Theatre, Mansfield
Live Performances for Yrs 5 & 6
THE FIRST is a play based on the global events of World War I, told from the perspective of two boys from a small town in the East Midlands. A work of fiction, THE FIRST follows best friends Frederick and Jack, as they grow, play and enter the Great War together. the first is a play of choices and the audience is invited to decide the fate of Jack at the end of play.
Follow-up workshops linked to this performance have been developed for teachers to deliver in class or for delivery at extra cost by a writer/ theatre practitioner. A downloadable resource pack will support activity for group discussion and creative writing.
Tickets: only £45 per class (subsidised by Arts Council England – usual cost £160 per class) from Jayne Williams 07967 106594 / MrsJayneW@gmail,com
Capacity: 90 children per performance (3 classes max)  Running time: 60 minutes    Age KS2 (Years 5&6)
Company Gavin Robertson presents Escape from the Planet of the Day that Time Forgot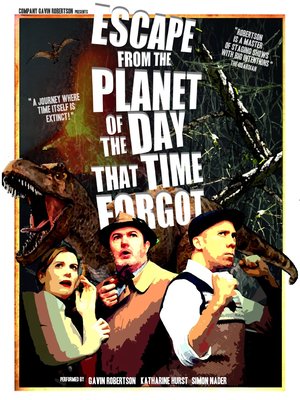 Thursday 24 November, 7.30pm
The Old Library, Mansfield
Tickets £9/£7 concession 01623 644 377
England: The 1940's. There's a professor with a space rocket in the cellar, his physics-savvy female ward, and his eager but impoverished lab assistant, and together they find themselves on a distant planet before escaping to...where exactly?
Think a hotch-potch of silliness and unlikely encounters, plus time travel, near-misses, close shaves and a whole pile of pluck along with an invisible dog and several sets of 'jolly hockey sticks'.
Three award-winning performances combine fast storytelling, bold imagery and jokes a-plenty as they lift-off from stately home to steaming jungle and back again in a frantic outrageous adventure!
Running times: 60 mins (no interval) plus there's an optional post show discussion following the performance.
Company Gavin Robertson performed BOND here last year and this time are bringing their new show straight from Edinburgh Festival Fringe, ESCAPE from the PLANET of the DAY that TIME FORGOT to the Old Library on the 22nd of this month.
https://www.facebook.com/events/295305957508643/
http://www.gavinrobertson.com/
@comgavrob
Coming Soon...
Xhibit 2017 Audition Applications Open
Xzibit Young Creatives, curated by Gareth Woodward and supported by CYA & Dance4, is a choreographic programme that aims to enhance young people's skills and knowledge of choreography and gives them the opportunity to present their own work in a professional environment.  Calling all aspiring young dancers and choreographers - Applications are now being accepted for Xzibit Young Creatives 2017, taking place in Jan 2017, for a major performance in March 2017.  
Plus...
NUSIC Schools Tour - a week of career focused music events in November
BANDEMONIUM CYA's Battle of the Bands with winner's getting a Showcase 2017 slot at the Royal Concert Hall and a place on NUSIC's 2017 Future Sound of Nottingham with a chance to play at Rock City & Splendour 2017
SHOWCASE 2017 - Feb 16 & 17 Palace Theatre, Mansfield  *   Mar 10 Royal Concert Hall, Nottingham
TEN TWENTY - CYA's Major Anniversaries Celebration - TEN years at The Old Library, TWENTY years of CYA...Celebrate with us in 2017!