Published 3rd March 2017
It's Nomination Time!
Do you know someone, a group or team who deserve to be recognised for their achievement or service during the last year? On Friday 3 March nominations open for the first Inspire Awards and we need to hear from you!
Don't worry, if you're not quite sure which category to submit your entry under. The most important thing is to let us know who you think best deserves an award and in what way they have made a difference.
The Awards are open to everyone, team, group or partner who have achieved great things through their relationship with Inspire. This could be an adult learner, a customer, a pupil, community group, tutor, school, mentor, volunteer or staff member.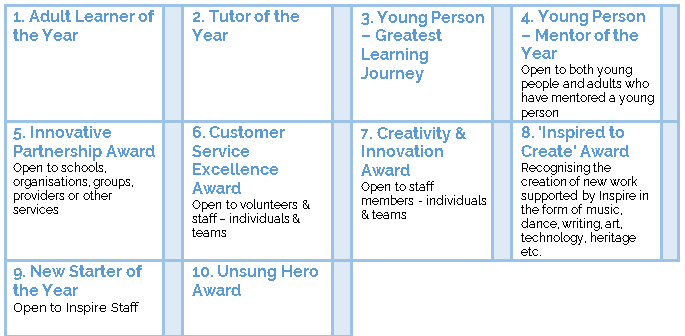 Nominations will be reviewed by an Inspire Awards Panel and the results announced by Monday 15 May. 
To submit your entry online please fill out the form below. 
Closing date for nominations: Friday 7 April 2017.                
For more information contact inspireawards@inspireculture.org.uk