Published 13th December 2017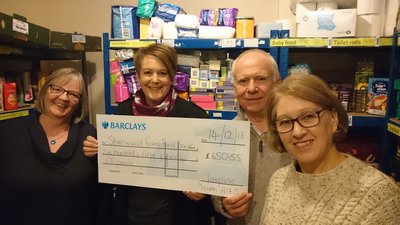 Old Library staff deliver donations to local foodbank
Staff from the Inspire Youth Arts team, based at Mansfield's Old Library, visited the Sherwood Forest Foodbank today to hand over food donations and a cheque.
Instead of paying for tickets for recent Showcase events, the audience were asked to donate money at the end of each show for this local charity who, as part of the Trussell Trust, works to help local people in crisis. The team also hosted a food donation point at the Old Library. With demand soaring over the winter months, this is the second year that the Old Library team have looked to boost donations in the lead up to Christmas. Last year saw a charity gig from The Virginmarys frontman Ally Dickaty with food donations again being supplemented for the cost of a ticket. 
Working with young people who often rely on supported housing and foodbanks has made this a cause close to the team's hearts, and with the Sherwood Forest Foodbank relying heavily on public donations (over 90% of the food they distribute) the team have been overwhelmed by the generosity of their audiences who have raised over £600.
The Sherwood Forest Food bank is located at the Stables Centre, 12 Church Street in Mansfield Woodhouse and can accept donations at select times on Mondays and Thursdays, for more information check out their website at www.sherwoodforest.foodbank.org.uk .
The Inspire Youth Arts team are based at the Old Library on Leeming Street, Mansfield and offer exciting opportunities for young people to take part in arts projects and programmes in music, dance and digital.
Click here
to find out more.