Published 9th April 2018
Win an iPad!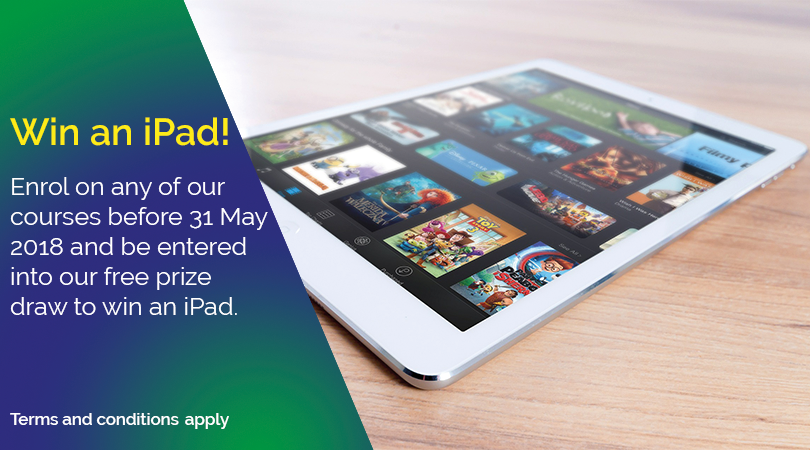 Our better than ever Summer 2018 course guide is out now! 
Packed full of fantastic courses for school leavers, employed professionals, the unemployed, mums, dads, carers and even grandparents – whoever you are and whatever you're interested in learning, you'll find a course or programme that both interests and inspires you.
Enrol to ANY course before the 31 May 2018 and you'll be entered into our prize draw to win an iPad! Terms and conditions apply.
Short courses are FREE for anyone in receipt of benefits. Choose from courses in arts, crafts, computing, creative writing, hair and beauty, languages, and health and wellbeing to name a few.
There's also FREE family learning courses including baby yoga, family crafts, coding with microbits and story telling, bringing families together and making learning fun.
Anyone looking for a career change, or looking to upskill will find a range of further education courses at levels 2 to 5 in management, training and education, health, social care and early years, and customer service, business administration and IT.
There's also apprenticeships for all ages, from 16 upwards – a great way to earn whilst you learn, develop practical skills and progress in your chosen career without the need for extended study leave or a career break.
Inspire's Access to Higher Education course in Health and Social Care can provide a pathway for some students to Nottingham Trent University. The course requires no GCSEs to enrol and financial help is available through an Advanced Learner Loan.
Ian Bond, INSPIRE, Learning Manager commented; "We pride ourselves in offering accessible learning opportunities to support our local residents in their learning aspirations, catering for learners of all ages and abilities. We're an Ofsted registered Grade 2 'Good' provider for the provision we deliver on behalf of Nottinghamshire County Council and I am proud that everything we do is focused on meeting the needs of our learners – the local people of Nottinghamshire. I look forward to welcoming some of our existing and former students back this term, but also the many new faces joining us for the first time".
Feeling inspired?
You view or download our new guide or pick up a copy from any our libraries across Notts.
Alternatively, get in touch with us on 0115 804 4363 or email learning@inspireculture.org.uk