Published 1st May 2018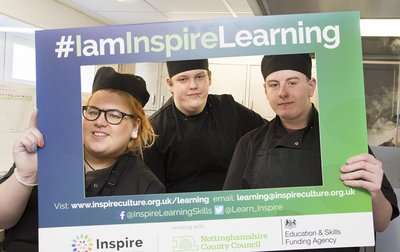 Inspire Learning is working with talented young people in Mansfield and Ashfield, through its tailored study programmes in hospitality and catering, to develop career essential work skills and offer a pathway to apprenticeships and employment.
Hospitality and Catering is just one of the opportunities offered by Inspire Learning for young people aged 16-24 at its specialist centres in Mansfield and Sutton-in-Ashfield.

The Level 1 Introduction to Hospitality operates from Myplace@WestfieldFolkhouse, Mansfield where students learn about food commodities, job roles in the industry and career planning. The course also includes practical cooking sessions where students can develop their culinary skills.
The Level 2 City & Guilds Diploma in Hospitality Services is based at both the Mansfield Myplace Centre and Eastbourne Centre, Sutton in Ashfield. The recently refurbished, fully-equipped commercial kitchen prepares young people for an industry standard working environment. The course includes both theory and practical sessions on Customer Service, Food Safety as well as various cooking elements where students create a range of appealing dishes suitable for high end menus.
All courses offer individual tailored programmes of study, including Maths and English via either functional skills or GCSEs.
Inspire Learning is committed to providing real, industry relevant, work opportunities for all students as part of the programme and all young people are able to further enrich their learning through community placements and individual work experience as part of their learning journey.
Connor Young from Mansfield said, "I really enjoyed the Level 1 Introductory Hospitality and Catering course at My Place, Mansfield. I'm not very confident, and the staff from Inspire and the introductory course really helped me. I'm now studying a City and Guilds Diploma Level 2 in Hospitality and Catering, and I really look forward to developing my practical skills each Wednesday when we get the chance to get hands on experience in a proper kitchen. When I've completed my course, I'd really like to do an apprenticeship and eventually own my own business."
Progression opportunities from these courses can include employment, apprenticeship or a traineeship. A traineeship is a course of up to six months which focuses on a work placement, along with employability skills and Maths and English.
Simon Cook, Inspire Learning's Study Programme Manager, commented; "Our young people benefit not only from quality education and training to prepare them for work, but from our commitment to them as an individual. The care and attention they receive from our experienced tutors regarding issues that affect their everyday lives is second to none. It is our staff's determination to address these barriers to learning that enables our young people to achieve".
Other tailored study programmes offered by Inspire Learning including health and social care, carpentry and joinery, painting and decorating, employability skills, construction, and ICT. These all include Functional Skills and/or GCSE qualifications in English and Maths.
Young people can enrol at any time to the programmes running in Mansfield, Sutton-in-Ashfield, Retford, Ollerton, Stapleford, Eastwood, Worksop and Newark. Plus Inspire Learning pays a bursary to students aged 16-19 and travel costs are also refunded. Child Benefit is not affected.
More information about study programmes and traineeships with Inspire Learning can be found at www.inspireculture.org.uk/learning or by calling us on 0115 804 4363.