Published 14th May 2018
Short courses at a library near you! It's not too late to enrol!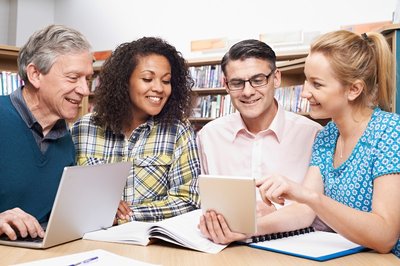 Inspire Learning offer a range of fantastic courses for everyone – whoever you are and whatever you're interested in learning, we have courses and programmes to interest and inspire you.
Enrol on any of our courses before 31 May 2018 and you'll be entered in to our prize draw to win an iPad!
School leavers can choose from our tailored study programmes and traineeships, and work towards recognised City and Guilds qualifications in a range of subject areas, including health and social care, hospitality and catering, carpentry, joinery, and painting and decorating.
Our further education courses at levels 3 to 5 in Customer Service, Business Administration, IT, Health and Social Care, Leadership and Management, and Training and Education are perfect for anyone looking for a career change. If you're looking to expand your skills and knowledge to boost job prospects please get in touch with us today!
Short courses and family learning
Many of Inspire's libraries are host to a range of short adult and family courses. With half term just around the corner it's a good time to find out what's on at your local library!
Entertain the whole family - have fun together whilst learning something new. Learn coding with micro bits and how to create a simple game and app using basic computer programming, or explore the sea with crafts, maths and science.
Families with under 5's can enjoy our music making early years course. For children aged 2-5 you'll have fun together singing and playing instruments, plus its completely FREE! 
Meet new people and learn to play scrabble, book folding, creative writing, iPads/tablets for beginners, life drawing, confidence for work, collage, sugar craft, mindfulness, indian head massage, crochet, make your own baby accessories plus many many more!
If you need to brush up on your English and maths, we're also running Functional Skills courses. The course is for anyone who doesn't already have a GCSE in English or maths at grade c or above. Within 14 weeks you could work towards the Level 1 and 2 City and Guilds qualifications, giving your CV, education and job prospects a boost.
Win an iPad!
Don't forget, if you sign up before 31 May 2018 you'll be in with the chance of winning an iPad!
Feeling inspired?
Pick up your free copy of our latest course guide from your library, and find out what's on or visit www.inspireculture.org.uk for our latest course and what's on information.
You can also contact Inspire Learning on 0115 804 4363 or email learning@inspireculture.org.uk