Published 27th June 2018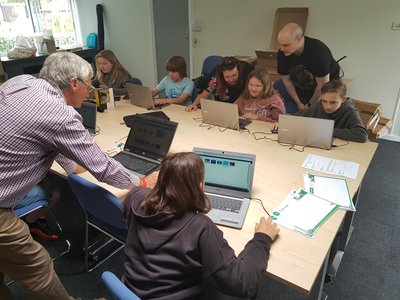 A new club aimed at encouraging young people to get creative with technology has recently been launched at Ollerton Library with the help of local businesses. 
Part of the Code Club initiative, the free coding classes teach children aged between nine and 13, the skills required to create games, animations and websites under the guidance of volunteers.

Classes run every Saturday during term-time with the aim to add further sessions in the future to inspire even more young would-be coders. 

The new Code Club has had the support of the Sherwood Forest Education partnership together with Ollerton and Boughton Town Council. 

Donations and sponsorship for the purchase of laptops have also been received from a number of local organisations including the Economic Development fund at Newark and Sherwood District Council and Currys PC World in Newark.

For more information about Code Club at Ollerton Library, please visit the Code Club website and search for Ollerton Library Club: www.codeclub.org.uk.

We want to support children to develop transferable skills that will equip them for the future. The club is a fun way of building those skills. We have had fantastic support from local organisations, volunteers and of course our keen children. We hope to expand the club over coming months