Published 10th July 2018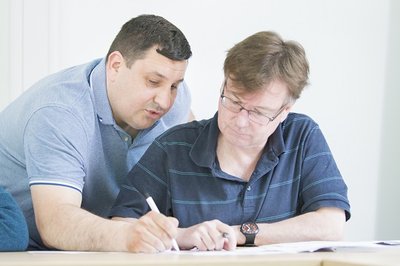 Inspire Learning are holding a series of Enrolment Days on your doorstep at your local library.
School leavers can choose from a range of tailored study programmes and traineeships, and work towards recognised City and Guilds qualifications in a number of subject areas, including health and social care, hospitality and catering, carpentry, joinery, and painting and decorating.
 Our accredited further education courses at levels 3 to 5 in Leadership and Project Management, and Training and Education are perfect for anyone looking for a career change. If you're looking to expand your skills and knowledge to boost job prospects please come along and see us!
 We're also enrolling to our Access to Higher Education course in Health and Social Care, which will be running at Beeston and The Old Library, Mansfield from September.
 Our libraries are host to a range of short adult and family courses too. With the school Summer holidays just around the corner, it's a good time to find out what's on at your local library!
 Our enrolment days are a great opportunity for you to meet our friendly tutors, ask any questions you may have, and get valuable advice from our experienced staff. If you're feeling inspired by what we have to offer, then there is the opportunity to enrol on the course that is right for you. There is no need to get hold of a ticket, our enrolment days are FREE and open to everyone. All you need to do is turn up.
Before you go, make sure you've had a read of our NEW Course Guide for Autumn 2018. Whoever you are, whatever your aspirations, and wherever you are on your own journey of fun, growth and development, we're sure you'll find a course or programme that interests and inspires you.
See below for the full list of our Enrolment days:
Beeston Library-Wednesday 15/08/18 10:00am-16:00pm
West Bridgford Library- Tuesday 28/08/18 16:00pm-19:00pm 
Worksop Library- Thursday 30/08/18 16:00pm-19:00pm
Sutton Library- Tuesday 04/09/18 11:00pm-15:00pm
Stapleford Library- Monday 10/09/18 10:00am-16:00pm
Arnold Library- Thursday 13/09/18 10:0am- 16:00pm 
If you unfortunately can't make it to one of our enrolment days, you can always book online 24 hours a day, 7 days a week.
Simply search for your course and use the Eventbrite button to secure your place.
You can also call us to book on 01623 677 200. Our office is open Monday to Friday, 8.30am to 4.30
We are looking forward to seeing you soon!