Published 10th July 2018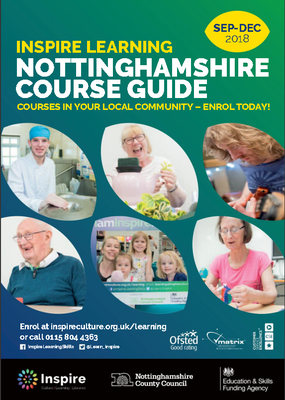 Better than ever and featuring more courses than before, Inspire Learning's new course guide is coming to a library near you!
Learn a new language, get lost in literature and music, brush up on your English and Maths or develop your work skills.
Art journaling, crochet, machine quilting, papercrafts, photography and printmaking are just a few of our art and craft courses on offer.
You can improve and develop your IT skills too – we've courses in basic computing to website creation and blogging.
Maybe you're interested in writing but you don't know where to start? Let Inspire Learning help you discover your own creative writing style with one of our creative writing courses. Craft a short story, write for children, or learn the art of calligraphy.
If food is your passion, learn the essentials needed to work safely in a catering environment, or for something a little more light-hearted how about sugar fondant cake toppers, sugarcraft flowers, or learning how to set up a secret tea room?
Discover alternative therapies, meditation and mindfulness, or use drama techniques to promote mental health through drama therapy. If you're looking to get more active, why not try one of our full body workouts? We're offering Pilates, Yoga and Balletcise as well as vertical fitness (pole dancing)!
There's accredited courses at levels 3 to 5 in a range of subjects including education and training, leadership and project management. We're also running Access to Higher Education courses in Health and Social Care.
For school leavers unsure of their next steps, we have traineeships and study programmes in a variety of subjects with progression opportunities to apprenticeship programmes.
Whoever you are, whatever your aspirations, and wherever you are on your own journey of fun, growth and development, we're sure you'll find a course or programme with us that interests and inspires you.
Feeling inspired? Can't wait for our new course guide to arrive at your local library? View and download it today!
Courses starting throughout Summer - it's not too late to enrol!
Don't forget – we have many courses starting throughout Summer. Some you can do as a family during the summer holidays! It's not too late to enrol, simply book online or call us on 0115 804 4363.