Published 2nd October 2018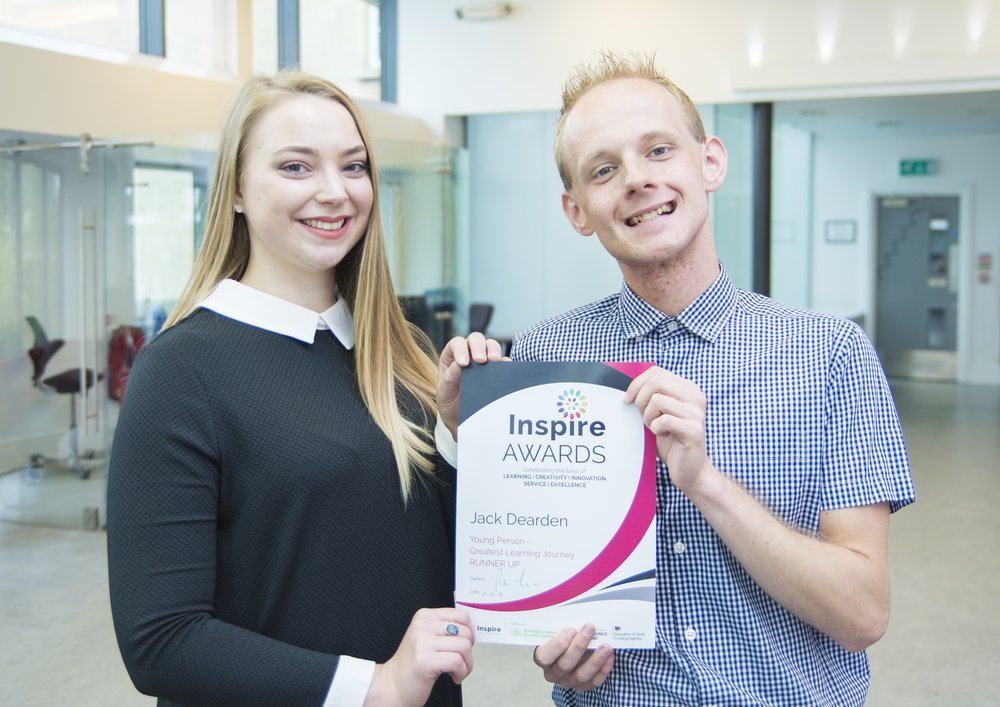 Jack Dearden, from Mansfield, left school with no GCSEs. He struggled to understand some of the material in the different subjects he had been learning and had almost given up when he decided to enrol on a study programme with Inspire Learning.

Jack says, "I chose a study programme with Inspire Learning because I felt I needed an environment where I could comfortably learn subjects and steadily work my way up through support coming from the tutors and other staff members, because previously I had struggled when I didn't understand some of the material in different learning subjects."
Building his confidence throughout the study programme Jack decided to continue his learning following successful completion of functional skills in English, and take the courageous step of working towards GCSE English Language, which he had previously failed to achieve.
"I was inspired to progress to the GCSE English Language because I had been doing my very best successfully with the functional skills English course. Knowing I did my best with confidence I wanted to move on to the GCSE course and give it another go," said Jack.
Jack continued,"I really enjoyed learning the subjects that I was taught by the tutors at Westfield Folkhouse and gained a better understanding of unfamiliar topics. I also enjoyed the staff teaching me interesting and important material in the subjects I was learning. I started to really enjoy Maths and English because I was learning so much, it became enjoyable."
"The course has helped me in a very positive way; with help and support from the staff during the English Language GCSE revision sessions, not giving up, always keep trying my best with confidence whilst remaining positive, and studying really hard, has made a huge difference in helping me to achieve my goals and passing the course."
Jack was a runner up in the Learner of the Year category at the recent Inspire Awards, he achieved a 4 in Maths and a 5 in English, and is now working part time at local company Linneys, where he completed a work placement as part of his course. 
When asked what advice he would say to anyone else who didn't get any GCSEs this year, or didn't get the grades they had hoped for he said, "Once you start your GCSE revisions, and from the beginning of the academic year, always do your very best and work your hardest, never give up. Like me, if you continue trying your best, with confidence and determination, then I know you will do well."
Simon Cook, Study Programme Manager at Inspire Learning said, "We're an Ofsted rated good provider and we treat our learners as young adults, encouraging them to develop their personal responsibility and independence. Our study programmes and traineeships are a great alternative for young people who aren't sure what their next steps are, or don't yet feel ready to make the often daunting move into a big college. Our pastoral support is second to none, making for a supportive environment in which to come and learn. We have an excellent record of helping young people overcome the barriers to learning that have held them back in the past with passionate GCSE tutors who ensure lessons are interesting and engaging."
Young people can enrol at any time onto the programmes running at Mansfield, Hucknall and Sutton-in-Ashfield. It's not too late to start! Should you live further afield, courses are also available at our bases in Eastwood, Stapleford, Ollerton, Retford, Newark and Worksop. Plus, Inspire Learning pays a bursary to all students and travel costs are also refunded (aged 16-19 or up to age 24 with EHCP). Child Benefit is not affected.
Councillor John Cottee, Committee Chairman for Communities and Place, at Nottinghamshire County Council, said: "Many congratulations to Jack for what he has achieved – it is a wonderful story. Inspire Learning offers a lot of individual support to learners and helps young people who might not have had a positive school experience. It aims to encourage learning and development across all ages and promote personal growth within our communities."
Jack's employer, Linney at Mansfield said, ""Jack Dearden is an inspiration to us all. Jack has come so far here at Linney, his confidence is growing daily and he's now a confident young man. Jack is always 100% committed to his role and he's an important part of our team – well done Jack".
If you're feeling inspired by Jack's story, click here to find out more about our Study Programmes and Traineeships or call 01623 677 200.