Published 28th November 2018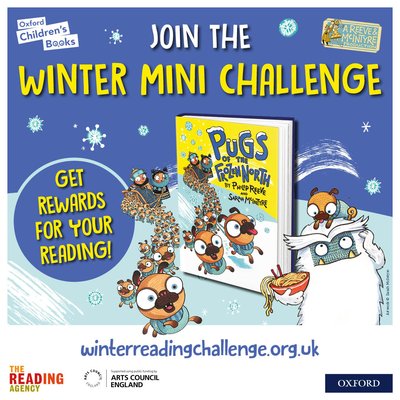 Get your students reading over the festive period with The Reading Agency's Winter Mini Challenge!
Similar to the hugely popular Summer Reading Challenge, the Winter Mini Challenge asks children to read three books of their choice over the winter holidays, then add each book to their Winter Reading Challenge website profile and leave a short book review.
Rating and reviewing three books online over the winter holidays, will unlock a virtual badge and a special certificate to print off and keep.
This year's Challenge promises to be sled-loads of fun with The Reading Agency teaming up with Oxford Children's Books to bring you a winter reading challenge inspired by Pugs of the Frozen North, an action-packed adorable-pug-filled adventure from the amazing Philip Reeve and Sarah McIntyre.
The Winter Mini Challenge starts on Monday 2 December and finishes on Monday 13 January - get your students to head down to their local library, where we've got plenty of brr-illiant books to suit all ages and interests!
We would love for you to encourage your students to take part in the mini challenge! Winter Mini Challenge resources can be downloaded below: