Published 6th February 2019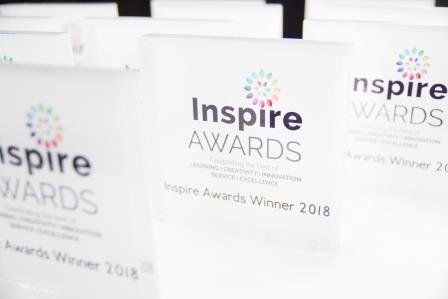 Nominations are open!
Celebrating the best of learning, creativity, innovation, service and excellence from 1 April 2018 to 31 March 2019
Have you been inspired by a colleague, learner, volunteer or staff member?
Do you know an amazing person or group of people who deserve to be recognised for their outstanding achievement this year?
This year there are 12 awards up for grabs, so make sure you nominate for one of the following categories:
NOMINATION CATEGORIES
Adult Learner of the Year - open to all adult learners who have been on an inspirational learning journey.

An Inspiration to Me – open to all who have been an inspiration and deserve to be thanked.
Creativity & Innovation - open to staff members, individuals and teams who have created a fantastic project, service or outcome.

Customer Service Excellence – open to Inspire staff (individuals and teams) who have given exceptional service.

Innovative Partnership – open to schools, organisations, groups, providers or other services who have made an outstanding contribution.
Inspired to Create – recognising the creation of new work supported by Inspire in the form of music, dance, writing, art, technology and heritage.
Inspiring Reading - open to an individual, team or service who have inspired a customer or learner with a new love of reading.
New Starter of the Year – open to new Inspire staff who have committed to the mission and values of the organisation.
Tutor of the Year – open to all tutors who have made an amazing contribution to learning.
Unsung Hero – a chance to highlight the fantastic contribution of those who shun the limelight but work hard for Inspire.
Volunteer of the Year – open to all volunteers who have enriched Inspire's services and make a difference to their community.
Young Person Greatest Learning Journey – recognising the amazing journeys of Inspire's young learners.
Don't worry if you're not sure which category to submit your entry under - just let us know who deserves an award and what a difference they have made.
Nominations close at 5pm on Friday 12 April 2019. 
The Inspire Awards Panel will review the entries and a shortlist for each category will be announced on Fri 17 May 2019.
Winners will be announced at the Inspire Awards Celebration evening hosted by Mansfield Central Library on Thursday 20 June 2019 and compered by BBC DJ Dean Jackson.
Winners and runners up from the 2017/18 Inspire Awards evening.