Published 4th March 2019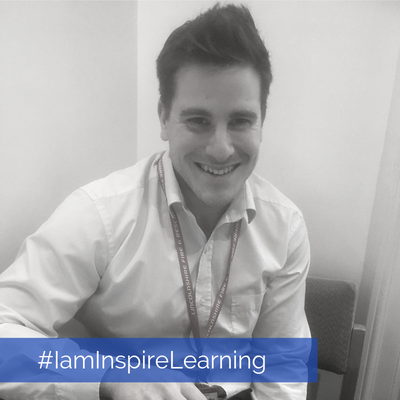 It's National Apprenticeship Week! A week of celebrations to showcase the nation's apprentices and employers blazing their own trail.
Here at Inspire, we're proud of all our apprentices, blazing a trail, unlocking exciting new career opportunities, and bringing significant value to business.
Warwick Grosvenor works at Lincolnshire County Council, and he's signed up to a Leadership and Management Apprenticeship with Inspire Learning.
We spoke to Warwick recently to find out how he's getting on, and to ask him what he hopes to do when he completes his apprenticeship:
Warwick said, "I enrolled on an apprenticeship with Inspire Learning because I wanted to continue my personal and professional development within my current role in a way that allows me to apply my current skills and knowledge, as well as up-skilling in areas that I need to."
"I chose Inspire because my employer, Lincolnshire County Council, have a strong relationship with Inspire, who provide us with quality professional learning and development. So far, I have developed in areas that I already have a basic grasp of, increasing my depth of knowledge and understanding. This has increased my confidence in managing certain situations and enabled me to draw on my learning to apply new management techniques. I have particularly enjoyed learning about different operation and project planning techniques."
"Long-term I would like to progress to a strategic manager role. This apprenticeship provides me with the opportunity to learn more about the strategic management of an organisation, whilst developing the operational management techniques I use on a day-to-day basis."
"The main barrier for me to undertake any formal learning is
time away from work. I work in a very busy management role where I would
struggle to take time away from work to undertake a qualification. Likewise, as
a father of 3 my time outside of work is limited! This course gives me the
opportunity to continue my development by undertaking a qualification with
minimal impact on my day-to-day working life."
"When I complete my apprenticeship, I hope to continue my learning, complete more courses, and achieve progression within my career."
Susan Heap, Employer Engagement and Commercial Learning Manager for Inspire said, "We're really proud to be working with Lincolnshire County Council, Charwood Borough Council and Newark and Sherwood District Councils to deliver apprenticeship programmes. National Apprenticeship Week gives us a great opportunity to celebrate the talent and passion within these organisations, but also within our own organisation where we benefit from the convenience of developing and training our own employees through apprenticeship programmes."
"Inspire Learning offer apprenticeships for all ages from 16 upwards. They're a great way to earn whilst you learn, develop practical skills and progress in your chosen career without the need for extended study leave or a career break – you get hands on experience whilst being paid."
Find out more about apprenticeships with Inspire Learning or get details about our study programmes and traineeships for 16-24 year olds.