Published 12th August 2019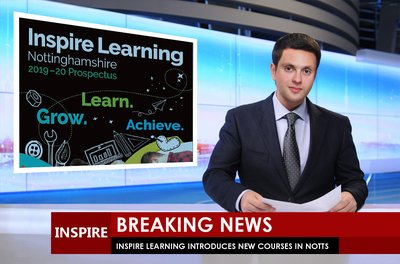 Our latest Inspire Learning prospectus and course leaflets will hit Nottinghamshire Libraries this week with a fresh new look and all the information you need for taking those next steps in training and education.
We have courses for everyone aged 16-60 plus conveniently located across Nottinghamshire, including 60 libraries, 9 study bases and a range of community venues.
Aged 16-24?
If you're aged 16-24, and you're not sure what your next steps are, our programmes for 16-24 year olds could be just what you're looking for.
You'll earn up to £20 a week and get help with travel expenses, and a personalised programme with individual support.
Our programmes include Employability Skills, Functional Skills or GCSE Maths and English, and a range of City & Guilds or AIM Awards qualifications in Hospitality, IT, Bricklaying and Construction, Carpentry and Joinery, Painting and Decorating, and Health and Social Care.
Community and Family Learning
We understand that studying towards a formal qualification isn't for everyone and our Community and Family Learning courses are designed with this in mind. They're for everyone aged 19+ and the great thing is, you don't need any prior skills or qualifications to sign up! Our adult short courses are also free if you're in receipt of certain benefits.
Improve or brush up your skills, learn about a new or existing interest, turn a passion into a career, meet new people, get out of the house more and spend quality time with your friends and family.
Plus our Family Learning courses are completely FREE - parents/carers can learn at the same time as their children whilst spending quality time together, and share ideas with other parents.
Accredited and Further Education Courses
Whether you want to get your foot in the door, progress your education, change your career or expand your skills and knowledge to boost your job prospects, we have a range of accredited, professional and further education courses at levels one to seven to give you a head start.
All
accredited courses at level 1 and 2
are funded through the Adult Education Budget (AEB) which means your course could be fully or partially funded. There's also financial help for our
level 3+courses
through a 19+ Advanced Learner Loan or flexible payment options.
Higher Education
If you want to go to university but don't have the qualifications you need – don't worry! Join our Access to Higher Education course in Health and Social Care.
Our Access course has a 100% pass rate and you don't need any GCSEs to join. You don't need to progress to a higher education course in health and social care either, although we're really proud to be working with Nottingham Trent University to offer a pathway for some students onto their BA (Hons) Health and Social Care degree course.
If you're aged 19 on the day our course starts, you'll qualify for a 19+ Advanced Learner Loan.
Enrolling NOW!
We're enrolling now for September.
For full details of all our courses, view and download our new prospectus and course leaflets for your area today! You can also call us on 01623 677 200 or email learning@inspireculture.org.uk
We look forward to welcoming you soon!