Published 4th October 2019
Read, research, listen and learn with all things digital at Inspire!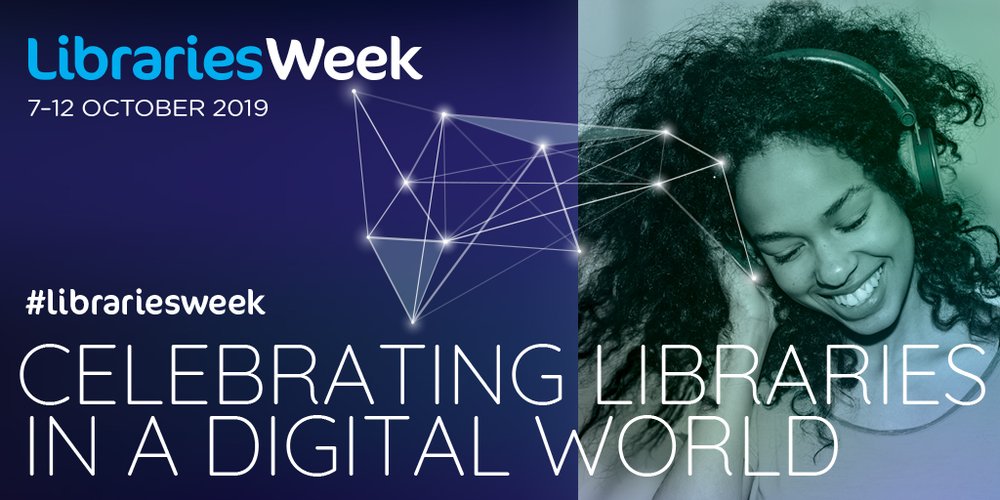 Connect with Inspire during Libraries Week 2019, 7-12 October and celebrate all things digital in Nottinghamshire Libraries! 
Libraries Week is a celebration of the nation's much-loved libraries and in 2019 is celebrating the role of libraries in the digital world. Libraries Week 2019 is celebrating how libraries are engaging communities through technology, building digital skills and confidence, encouraging digital participation and inclusion, supporting health, wellbeing and education and supporting local business and enterprise. 
Here's some inspiration how to get down and digital with Inspire!  
Get online for free with or without your own device - we've got over 360 PCs in our libraries across the county for library members to use for free, as well as free wi-fi.  
Your 24-7 library, free to download - choose from 150 different eMagazine titles, eNewspapers and over 10,000 eBooks to download onto your phone, tablet or PC for FREE.  Plus, with over 13,000 eAudio books to choose from there really is something for everyone, and it's free for our library members.  
Branch out and research your family tree - access Ancestry.com and other Historical Research services online for FREE in one of our libraries or at Nottinghamshire Archives.  
Technology just not your cup of tea? - whether you want to learn to text, shop online, Skype with family, or use eMail, our friendly staff and volunteers will be there to answer your questions….over a cup of tea! View our drop-in sessions here.
Live and learn, don't get left behind in the digital world - Inspire Learning frequently offers IT courses to adults and young people to improve your confidence and ensure you don't get left behind in the digital world.  You can even learn from the comfort of your own home or local library with one of our online courses. Choose from Employability Skills L2, Functional Skills, Maths, English and ICT or CISCO IT courses. Don't have a laptop? We may be able to loan you one!*
Crack the code - our FREE Code Clubs are perfect for children aged 9-13 and introduce coding and programming in a fun way as they create digital games, animations and websites!  Or why not borrow a Micro:bit from your local library for FREE and get your kids coding! You might also be able to catch a code-a-pillar in your local library! These fab little beasties visit our libraries to teach basic coding to under 5s (but our staff enjoy playing with them too!). 
Wondering Which! resource to choose from? – we also have a host of other resources and sources of reference for hobbies, homework, research and general interest. They include Which! Magazine, Oxford reference, Driving Test Theory and The British Newspaper Archive to name but a few! 


In the past when I didn't have the internet at home I used it at the library. I now do have internet but regularly use Ancestry and Newspaper Archives as it is free at the library. I also use the Which! magazines. It is an amazing resource and has helped me with hobbies, family history and making good purchasing deals.  
Key facts 
In 2018-19 we logged 378,000 hours of public /internet use across all our libraries.  
Issues of all eResources increased from 128,500 in 2017/18 to 232,985 in 2018/19 – that's almost double. 
eMagazines are the most popular with almost 100,000 issues last year 
The most popular eMagazine last year was Radio Times with New Scientist, Amateur Gardening, Amateur Photographer and Hello! not far behind. 
M.C.Beaton is the most widely read author in eBooks. Michelle Obama's biography Becoming is the most popular adult eAudiobook this year.  
The Harry Potter series remain the top issuing children's titles 
eAudiobooks show the strongest growth amongst all our eResources. This is a national trend towards listening rather than reading. 
Find out more information here, Ask Inspire or visit your library! 
*Please note that laptop loan is only applicable to our Employability and Functional Skills online courses.