Published 7th October 2019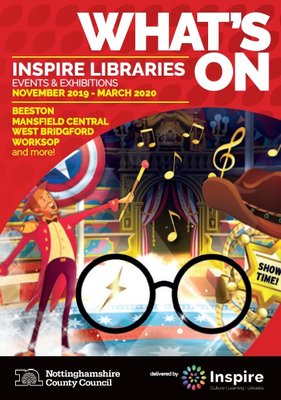 To showcase the range of events we have taking place across the county, we have produced a brand-new brochure highlighting the events going on at four of our largest libraries (West Bridgford, Beeston, Mansfield and Worksop) as well as some of the smaller ones dotted across the county.
Covering from November 2019 to March 2020 the season is a bonanza of books, poetry and words packed into workshops, live events and even a film screening. Whether you want to write a novel, pen your memoirs, read or share stories, you can join in to listen, learn, share or even perform!
You'll be able to dive into the deep blue sea at our family concerts, roll up to a sizzling festive show 'Too Many Cooks at Christmas' and join Pinocchio and friends for fun in one of our family theatre performance.
There's the opportunity to meet children's authors Nick Arnold and Adam Frost for a taste of horrible science and history like you've never experienced before, and under 5s are invited to become Little Creatives in specially designed arts sessions or join our free 10-week music programme Adventures in Music.
Heritage enthusiasts can be inspired by the Mayflower story (which marks its 400th anniversary in 2020) as well as a host of local studies talks, workshops, exhibitions and events. The popular Jazz season once again brings award-winning artists into libraries.
Peter Gaw, Chief Executive Officer at Inspire, said "I'm really excited to showcase our arts, reading, heritage, children and families programme countywide. We know many library users enjoy using their local library, but with such a fantastic series of events from jazz to family theatre to heritage in offer, we hope to encourage more people to try something and somewhere new!"
The brochure is available to pick up from your local Inspire Library or can be viewed online below;