Published 29th November 2019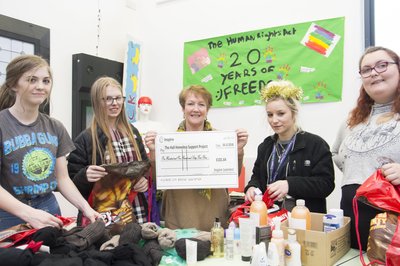 Last Christmas, learners from Inspire Learning's Study Programmes for young people raised money and collected warm clothing for the homeless on the streets of Mansfield and Sutton in Ashfield. It was a success, with the young people managing to raise a month's rent for The Hall Homeless Shelter. 
Following on from this success, the project will run again for the second time this Christmas. This year, learners are looking to raise money, collect food and warm clothing. A collection point will be available at Eastbourne House, Sutton in Ashfield. 
They are looking to collect: 
Gloves
Woolly hats
Thick socks 
Tinned food
Dried food 
Any money raised will go towards purchasing £5 Greggs vouchers, to ensure that the homeless are able to purchase a hot drink or food if they are unable to gain access to a shelter over the Christmas period. Donations and warm clothing will be handed over to The Hall Homeless Shelter on Wednesday 18 December 2019. The last day for donations at Eastbourne House will be Tuesday 17 December 2019. 
A bake sale will be running on Tuesday 10 and Wednesday 11 December at Eastbourne House in order to raise funds for the project. 
Young people from Hospitality and Catering courses in Mansfield have been attending The Hall and making hot meals and washing up for the shelter in the run up to Christmas. 
Inspire Learning are proud of learners for their involvement in this project and would like to thank everyone in advance for their support. 
For more information about Inspire Learning Study Programmes click here.