Published 11th December 2019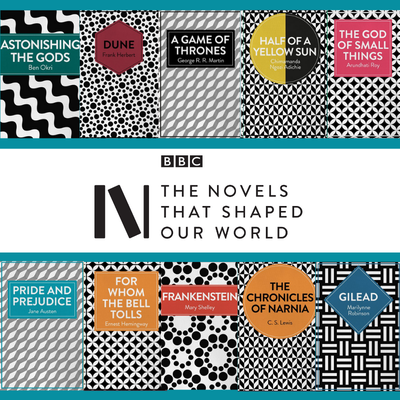 The Novels That Shaped Our World forms part of a year-long celebration of literature at the BBC and explores 100 novels which have had an impact over the last three centuries.
The list - which will spark debate and celebrate the joy of reading – was chosen by a BBC-assembled expert panel of six: journalist and broadcaster Mariella Frostrup; bestselling author, screenwriter and columnist Juno Dawson; Bradford Festival Literary Director Syima Aslam; author Kit de Waal; journalist, BBC Radio 4 Front Row presenter and editor of The Times Literary Supplement Stig Abell; and author Alexander McCall Smith.
Divided into ten categories, the choices are wide-ranging and inclusive and feature children's books, contemporary classics, graphic novels and books that have contributed to a significant cultural shift.
Keep an eye out for events around the Novels that Shaped our World and head down to your local library to pick up a copy! 
What novels have shaped your world?
Come along to Book Club Live: The Novels That Shaped our World and join our own panel of specialists on a lively discussion about 'the List'.

Expect forthright opinion and much good-humoured jousting as they take issue with the choices, offer alternative versions and champion their own favourite novels. And of course, there will be plenty of opportunities for you to join the debate.

West Bridgford, Thu 12 March 7.30pm

Our Panel:
Deirdre O'Byrne (Chairing) -  Lecturer in Irish and other literatures at Loughborough University. Chair of Nottingham Irish Studies Group. Storyteller. From Co Carlow (Ireland). Deirdre specializes in education, Irish literature,  UK and US Women's Writing 1800 to present day and Contemporary Multicultural British Fiction. Deirdre actively engages in community work, promoting literature and Irish Studies.
Henderson Mullin- Chief Executive of Writing East Midlands. Before setting up WEM in 2008, Henderson worked for Index on Censorship, the campaigning NGO which publishes books and magazines in support of freedom of expression. He was a Regional Artist Advisor for Artists taking the lead, and a member of The Rhythm Writers performance collective, based in London.

TM Logan - Bestselling author TM Logan was a national newspaper journalist before turning to novel-writing full time. His thrillers have sold more than 750,000 copies in the UK and are published in 15 countries around the world including the USA, South Korea, Italy, Spain, Portugal, France, Poland, Hungary, Serbia, Greece, Romania and the Netherlands.