Published 20th February 2020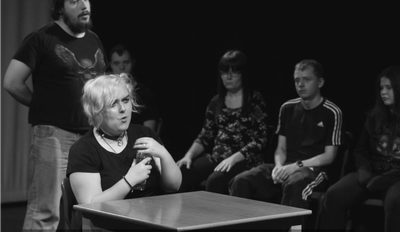 Thanks to recent Arts Council England funding Mansfield's own Unanima Theatre Company are now able to further their ambitious plans to take theatre, made in co-production with people who have intellectual and developmental disabilities, to wider audiences and higher platforms.
Unanima Theatre Company, established in 2008 by Creative Producer Tracy Radford with support from Inspire Youth Arts has continued to grow, creating more opportunities and a voice for young adults with a wide spectrum of disabilities whilst at the same time educating audiences through sharing their unique creative voices.
In June 2014 the company took up the offer of a permanent base as Theatre Company in Residence at the Old Library in Mansfield (home to Inspire: Culture, Learning and Libraries' Youth Arts team) where they continue to grow and develop.
The Company have also been announced as recipients of the In Good Company mid-career commission, which includes a commission fee of £10,000, rehearsal space, preview performances at NonSuch Studios in Nottingham, a series of school audiences and a world premiere at Departure Lounge at Derby Theatre in July.
Building on an 11-year track record of expertise around creating high calibre, innovative theatre with people with intellectual and developmental disabilities, this vital funding will enable the Company to become recognised as cultural leaders who are not afraid to tackle weighty issues and do so in a way that ensures that diverse voices are heard and given an equal platform.
Creative Producer, Tracy Radford commented, "All company members have worked so hard to get to this point. We are thrilled to receive the funding and will use it to promote the Creative Case for Diversity, along with our campaign to achieve greater parity for performers who are intellectually disabled and neurodivergent.
We are so excited that it will be happening in Mansfield and we can showcase the talent and creativity that we know exists here. We can't wait to get started!"

Unanima is a professionally led company of 15 adults with intellectual and developmental disabilities who create theatre that challenges society's discomfort with intellectual disability and neurodivergent humans, through thought-provoking theatre that demands a positive change.
Unanima puts people with intellectual disability and neurodivergence in the driving seat, developing members' skills and creative agency, and affording the space for each person to find their voice and a platform to make theatre how they want.