Published 7th May 2020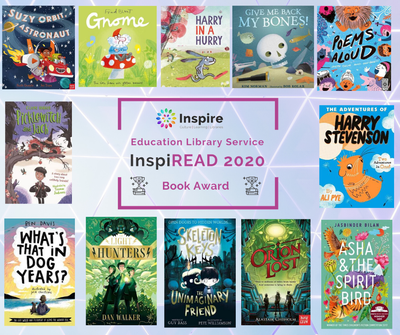 The Inspire Education Library Service (ELS) invite you to join their NEW online Primary Book Award...InspiREAD2020!
The aim is to get everyone reading children's books; pupils, teachers, parents, grandparents, carers, schools, families and friends - it's for anyone who enjoys a good read! 
The books are some of the ELS Librarians favourites, published in the last year, or so. Enjoy sharing some great books, reading, listening or watching online together.
You may have some of the books already and many are available as e-books or audio books. If you'd like to purchase any of the books,  a local independent bookshop in Lowdham is offering 20% discount on all titles with free postage and packing. 
Please email janestreeter@thebookcase.co.uk or tel 0115 966 4143 for more information.
Congratulations to all the shortlisted authors for the Education Library Service InspiREAD 2020 Book Award.
We've been overwhelmed with all the responses we've received and are delighted to announce the InspiREAD 2020 Book Award Winners are:

 A huge thank you to all the authors and everyone who voted for the award. We'll be back next year for InspiREAD 2021!
Follow the Award on Twitter @InspireELS #InspiREAD2020
The InspiREAD 2020 Shortlist
Picklewitch and Jack by Claire Barker, illustrated by Teemu Juhani | Faber

Skeleton Keys: The Unimaginary Friend by Guy Bass,  illustrated by Pete Williamson |  Stripes/Quarto Kids /Little Tiger Press
Poems Aloud by Joseph Coelho, illustrated by Daniel Gray-Barnett | Wide Eyed Productions/Quarto Kids 
The Adventures of Harry Stevenson by Ali Pye, author and illustrator | Simon and Schuster