Published 21st August 2020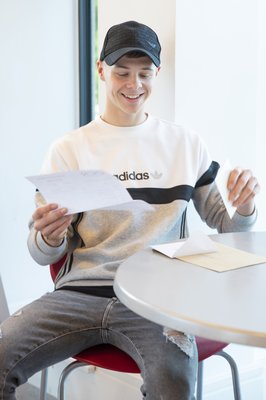 On Thursday 20 August, Inspire Learning Study Programmes celebrated fantastic GCSE results with a socially-distanced celebration at the MyPlace Manfield base. Learners and staff enjoyed some well-deserved cake after a difficult year. Information, Advice and Guidance Staff were also on hand to provide learners with advice on their next steps in education or employment. 
The Covid-19 pandemic meant that Inspire Learning's Study Programmes moved to online delivery from March 2020, which was a difficult transition for many learners, but one that many also benefitted from. 
Inspire Learning achieved the best pass rate to date and continue to be well above the national average for GCSE resit achievement rates. Pass rates have increased year on year. 
"We're so proud of our learners. We've had some fantastic results. We achieved a
64% pass rate in Maths and a 49% pass rate in English, which is well above the
national benchmark.  I am hugely proud of
all of the tutors at Inspire for their support this year. 
Amongst the successful learners was Callum from the MyPlace Mansfield base who is continuing his studies with Inspire next year on his Level 2 Catering programme, and Caleb from the Newark base who achieved an 8.
Inspire Learning have been shortlisted for the Outstanding GCSE Resits Provision Award at the 2020 Tes Fe Awards which will be announced in October.
Inspire Learning Study Programmes and Traineeships still have spaces left for September starts. Young people can resit their GCSEs or and earn a recognised qualification from 9 bases across Nottinghamshire. Plus, they can earn a daily bursary and take part in work and community placements. For more information click here.