Published 21st October 2020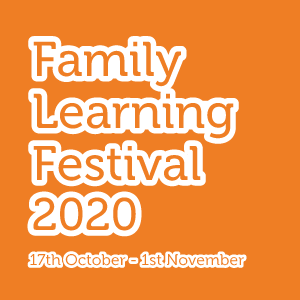 17 October – 1 November marks Family Learning Festival – an annual event that celebrates and inspires a love of learning in family life. 
The Festival is co-ordinated by the Campaign for Learning, an organisation that aims to build a culture of learning everywhere.
Learning as a family can help us to become confident, lifelong learners with all the benefits that brings - from better health to being happier. Family learning supports children to achieve at school and supports parents/carers to assist children with their Maths and English. But above all, it's fun!
This half term, Inspire Learning will be taking Family Learning Festival online. Between 26 – 31 October keep an eye on our social media @InspireLearningSkills on Facebook and @Learn_Inspire on Twitter. We will bring you Makaton videos, craft tutorials and share more information about our fantastic online Family Learning Courses.
We have a range of FREE online Family Learning courses starting this November to inspire you and your family. We're going on a bear hunt in our Story Explorations for Early Years course (starts 4 November). We're exploring our favourite books in Storytelling: Bringing Books to Life (starts 12 November) We're taking time to relax with Mindfulness for Children (starts 17 November). 
We're also offering Family Learning courses just for parents/carers to help you positively support your children. We know it can often be worrying to be a parent in a digital world so we're offering an Understanding Social Media course (starting 5 or 26 November ). We have courses on offer to help those who live or work with a child who has Autism, such as Autism: All About Me Book (starts 5 November) and Autism: Building a Sensory Profile (starts 23 or 26 November). 
We hope to welcome you to one of our Family Learning courses soon and hope you enjoy celebrating Family Learning Festival with us!