Published 10th December 2020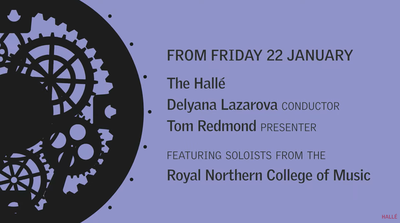 NOTTINGHAMSHIRE SCHOOLS
Please register your interest with Notts Music Hub before booking c/o 
nottsmusichub@inspireculture.org.uk
The Hallé's dedicated set works concert, 'The Orchestra Through The Ages', has been created in collaboration with teachers and music educators across the country to provide a unique resource for pupils studying GCSE and A-level music.
Featuring:
The Development of the orchestra from the Renaissance to the present day
Concert repertoire taken from the GCSE, AS and A'Level music syllabuses of the AQA. OCR, Edexcel and Eduqas/WJEC exam boards
On screen analysis of some of the key works
Insights into the role of the conductor and the musical journeys of the two RNCM student soloists
Enjoy as a complete concert, or in bite-sized 'chapters' to enable learning in separate lessons
Performed by the Hallé at The Bridgewater Hall.
Conducted by the Hallé's Assistant Conductor, Delyana Lazarova, winner of the Siemens-Hallé International Conductors Competition.
Presented by BBC Radio 3 presenter Tom Redmond.
PRICING

Cost per school £125 (£150 + VAT)  
Note, schools may reclaim the VAT by submitting a VAT Return