Published 15th February 2021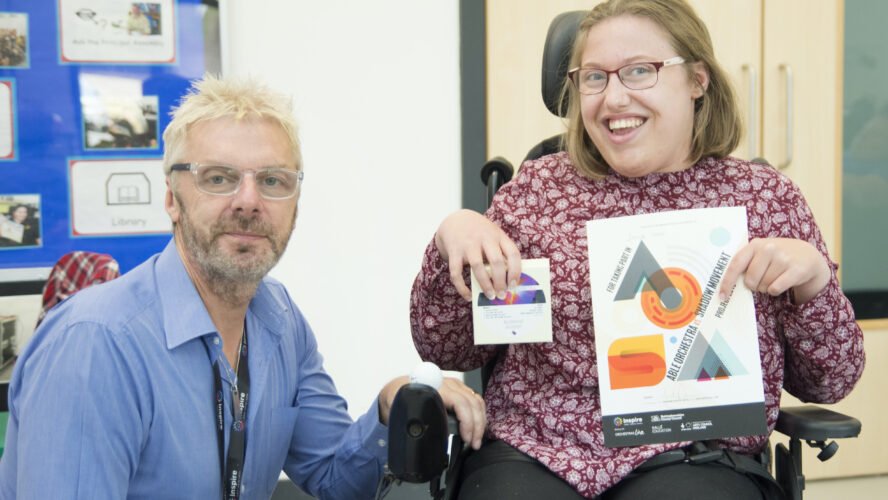 The winners have been announced for the annual National Campaign for the Arts' (NCA) Hearts for the Arts Awards 2021. The awards celebrate the unsung heroes of Local Authorities who are championing the arts against all odds.
After representatives from this year's Hearts for the Arts partners created the shortlist of nominations, winners were selected by high-profile figures in the arts and sciences. Andy Dawson was selected as the winner of Best Arts Champion – Local Authority or Cultural Trust Worker for his work as Service Manager at Inspire Youth Arts, delivering creative journeys for young people across Nottinghamshire.
Peter Gaw, Chief Executive for Inspire, said, "Andy has worked for the County Council and Inspire for over 25 years and has maintained a real passion to empower young people to aspire to create great art. He is always trying new approaches and building partnerships to bring skills and expertise into the lives of Nottinghamshire young people. The longevity of his work for youth arts means there is a large number of alumni who give back to inspiring the next generation of Nottinghamshire creatives. We are all at Inspire proud of Andy and the team, and wish him many congratulations on his well-deserved award."
Discussing Andy Dawson's work further, the judges said:
"I love Andy's passion for providing arts services to disadvantaged young people. As someone who desperately wanted to be a performer, but was discouraged – because of my disability – by many adults, I can see the huge importance of someone like Andy, who strongly believes in the power of art to heal, inspire, and help process difficult experiences. His long career and the wide-ranging nature of his projects is wonderful, and demonstrates a deep dedication to working with young people of all backgrounds. Andy has clearly transformed many lives for the better." 
Francesca Martinez, comedian, writer, actress
"Effective advocacy for the arts is so important, and it's fantastic to hear about people like Andy who are clearly so good and so passionate about what they do. It takes a lot of hard work and the right personality to connect to such a broad range of community members, and the results (as Andy has shown) are incredibly valuable." 
Helen Czerski, physicist, oceanographer, television presenter
"The breadth and quality of Andy's work must be exceptional when you consider some of the partner's he has engaged. Playing with BBC Philharmonic and the Halle Orchestra at The Albert Hall is an extraordinary feat in and of itself but the real magic is what he's gifting the players and his community- the ambition and permission to dream big because that sort of art, considered elite by many, is often exclusive, but not according to Andy. That is very special. In addition to advocating for individuals with special needs to be included. I attended an inclusivity workshop at The Globe where the facilitator opened with "no one is born disabled, society disables them"- to work across as many organisations as listed here and to secure the resources that facilitated performances in both London and Manchester is the work of a champion because putting that into practise is often met by roadblocks you didn't even envisage. I love what Andy is doing and has done. A gift to any community but to the young people of Nottinghamshire, he has expanded their worldview by including them in the conversation and showing them possibilities beyond their borders." 
Le Gateau Chocolat, drag artiste and cabaret performer
"It's impossible not to be impressed by Andy's many achievements but particularly his work with the Able Orchestra and his skills empowering his team to work independently and create projects that have such a wide impact."
Mariella Frostrup, journalist and broadcaster
"Nice one Andy. It sounds like you are running a creative kingdom with open arms for young folk and people who don't have the means. I especially like the focus on recording music, which is a daunting thing to tackle if you are inexperienced and don't have the facility . It feels like you're really getting in there, one-to-one, and helping people create from the ground up."
Paul Hartnoll, musician, composer, founder member of Orbital
"Andy Dawson clearly is a resourceful and passionate arts leader that drives change through arts and culture for young people and those most in need." 
Petra Roberts, Cultural Development Manager, Hackney Council (2020 Hearts for the Arts Winners for the Windrush Generations Festival)
"To quote RATATOUILLE, "Not everyone can become a great artist, but a great artist can come from anywhere." Andy Dawson clearly believes this, and he backs it up with data and personal stories of how art and creativity can transform people's lives, no matter who they are and where they're from. The sort of producer you'd love to have in your trench in a big fight, Andy's tenacity and good-humour shine through this nomination. What a wonderful champion of people, especially young people, in Nottinghamshire. Look after him". 
Samuel West, actor, director, Chair of the National Campaign for the Arts
Nominations were received from across the UK for each of the three award categories. Despite the incredible hardships faced by Local Authorities in 2020, this year's awards have seen the NCA receive a record-breaking number of nominations, as local communities turned to the arts for solace, strength and connectivity during the pandemic.
·     Awards judged by high-profile figures in the arts and sciences: Le Gateau Chocolat, Helen Czerski, Mariella Frostrup, Paul Hartnoll, Adrian Lester CBE, Francesca Martinez, Petra Roberts and National Campaign for the Arts Chair Samuel West
Awards to be presented by Samuel West and selected guest judges at the Hearts for the Arts digital Awards Ceremony hosted by the Local Government Association on Wednesday 3rd March AT 3PM. 
For the full list of winners visit forthearts.org.uk/campaigns/hearts-for-the-arts/
Under normal circumstances the Inspire Youth Arts team usually deliver a range of music, dance and digital projects from its Mansfield base (at The Old Library on Leeming Street) and across the whole of Nottinghamshire, including a mixture of workshops, events, installations and showcases, usually reaching 1500-2000 young people each year. However, with the start of lockdown much of their programme has been successfully moved online.  They are part of Inspire who deliver culture, learning and libraries on behalf of Nottinghamshire County Council. For more information visit www.inspireculutre.org.uk/iya 
The National Campaign for the Arts present the Hearts for the Arts Awards each year. The awards are delivered by the NCA, in partnership with Culture Counts; the Local Government Association; Thrive; UK Theatre; Voluntary Arts Wales, Wales Council for Voluntary Action.
For more information on the shortlisted nominees visit forthearts.org.uk/campaigns/hearts-for-the-arts/