Published 30th June 2021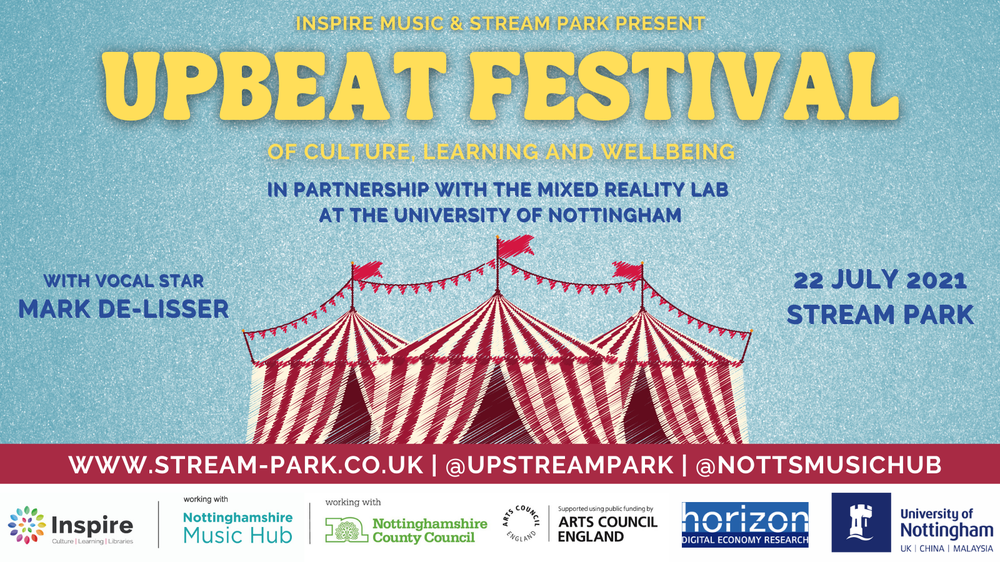 UPBEAT Festival of Culture, Learning and Wellbeing with vocal star Mark De-Lisser takes place at an interactive digital park this summer!
This July, Inspire Music and Stream Park have a treat in store for the whole family as they present a festival of culture, learning and wellbeing at an interactive digital park with local artists, community groups, schools, and some of Nottinghamshire's finest arts organisations including the Nottingham Playhouse, Inspire Youth Arts, Inspire Libraries, NTU, UoN, Community Recording Studio, and more!   
UPBEAT Festival of Culture, Learning and Wellbeing' has something for everyone from music, theatre, dance, comedy, poetry, art, and much more. The festival centres around a live singing event with renowned choral director Mark De-Lisser. Mark has worked with some of today's top vocal talent including Ariana Grande, Jessie J and Beverly Knight and has worked on many TV programmes such as BBC's Our Dementia Choir with Vicky McClure.
Get details and your FREE ticket here:  www.stream-park.co.uk/tickets and follow @upstreampark @nottsmusichub and @HorizonDER on social media for some exciting announcements! 
Building on last year's UPLOAD Virtual Festival which brought together over 150 acts and organisations, UPBEAT Festival will take place at an innovative digital Stream Park. Audience members will be able to socialise and interact with different elements of the digital park as if they were actually there! This is being developed in partnership with the Mixed Reality Lab at the University of Nottingham, Oxfam GB and Live Cinema UK through Horizon Digital Economy Research.
More details at www.stream-park.co.uk 
If you are a school, teacher or student you can email nottsmusichub@inspireculture.org.uk. 
For general enquires please email admin@stream-park.co.uk and look out for recognisable faces in the coming weeks announcing exciting elements of the festival!