Published 27th September 2021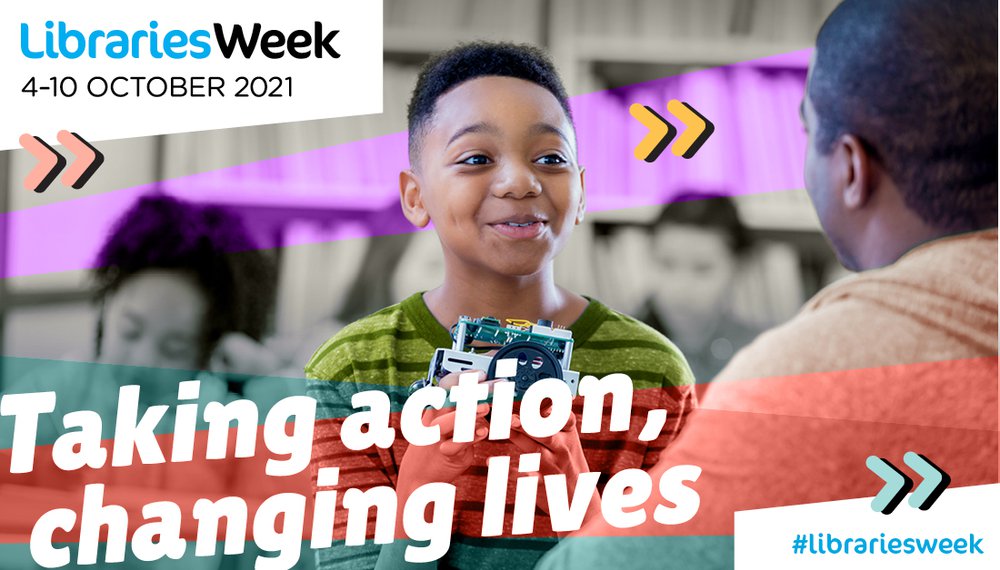 Libraries Week takes place between 4 – 10 October 2021 to celebrate the nation's much-loved libraries and the central role that libraries play in the community as a driver for inclusion, sustainability, social mobility and community cohesion.
This year, the theme is taking action and changing lives and we're going to be celebrating how Nottinghamshire Libraries inspire this.
Inspiring health and wellbeing
We know that reading has many benefits for health and wellbeing, from combatting stress to improving your mood. By signing up for a library card, you can borrow up to 24 items at one time as well as have 24/7 access to thousands of digital resources including eBooks, eMagazines and eAudio books. Signing up is free and you can join either online or in your local library.
Our Reading Well book collections can help you to understand and manage your health and wellbeing, providing information and advice for people with various physical and mental health conditions, their family, friends and carers. 
We're pleased that our Dementia Friendly Film Screenings are returning to Mansfield Central Library, starting with Paddington on 28 October. Our relaxed screenings are particularly suitable to those living with dementia as lighting and volume are sensitively set, and the audience is free to talk and move around.
Plus, it's not just Libraries Week – it's Dyslexia Awareness Week too! Nottinghamshire libraries offer dyslexic-friendly books for children, young people and adults. These books have dyslexic friendly font, accessible layouts and heavier tinted paper. You can find these books on our online catalogue by searching "dyslexic friendly" in the search box.
Helping you in to training and employment
Our libraries provide a range of facilities and support to help job seekers to find work and improve employment skills, including bookable PCs and free Wi-Fi accessed using your library card. Plus, some of our libraries are pleased to be resuming Job Clubs where you can access free support and advice.
Inspire Learning provide free and low-cost courses in our libraries to help improve your employability prospects. Whether you want to brush up on your Microsoft Office skills, gain a qualification, or start your own business, Inspire Learning have the course for you.
Supporting families
We are passionate about encouraging children to read. Our libraries have a wide range of story and information books to delight, inspire and enthuse a love of reading and learning. Children and young people up to the age of 19 can enjoy no overdue charges, and books, talking books and DVDs can be reserved free of charge.
Our libraries provide events such as Rattle Rhyme and Roll and Storyhullabaloo to bring families together and allow children to socialise. Check your local library page to find out what's happening near you.
Plus, Family Theatre is back and is bringing fun and imaginative theatre to your doorstep! Enjoy Mavis Sparkle this October, and The Princess and the Pea this November.
Bringing people together
Libraries are uniquely placed, in the heart of your community, to help build stronger and more resilient communities. Socialise with a coffee and cake in The Coffee Terrace café at Worksop Library, or join your local library reading group to meet like-minded people. Check your local library page to find out what's on.
We're proud to be part of the Reading Friends programme, an innovative reading befriending programme administered by The Reading Agency, developed with funding from The National Lottery Community Fund, that tackles loneliness through the power of reading. We're currently running the service as a telephone befriending programme.
Enriching lives with arts and culture in the local community

Libraries provide everyone with access to diverse cultural experiences that make a lasting impact. October sees the return of our popular live Jazz Steps: Live at the Libraries concerts in Beeston, Worksop, Southwell and West Bridgford Libraries.
Our art galleries offer professional, affordable exhibition spaces that bring great art to local communities in the vibrant, creative and welcoming setting of libraries. This Autumn, you can explore The Big Draw 2021: Make the Change exhibition at Worksop Library, the Inspire Community Open Exhibition at Beeston Library, or the Surfaces of the Shire exhibition at West Bridgford Library.
Get involved with Community Makers

If you're happy to see libraries open again and are eager to get involved in your local community and make a difference, now is the perfect time to sign up as an Inspire Community Maker! Volunteers are a key part of our service; bringing experience, ideas and inspiration, delivering and supporting our vision to help the people of Nottinghamshire to read, learn and enjoy culture. Find out moreabout current opportunities.
Make sure you are following us on Facebook and Twitter (@NottsLibraries) as we will be sharing much more information throughout the week. Libraries Week are also encouraging you to join in the conversation, sharing how your library has impacted your life using the hashtag #ShareTheChange.
More information about Libraries Week can be found by visiting the Libraries Week website.