Published 26th October 2021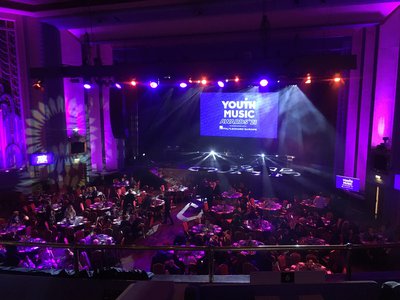 Music Tutor, Jimmy Power, won the prestigious Inspirational Music Leader Award at this year's Youth Music Awards that took place at Troxy, London on Wednesday 20 October, for his work with the Inspire Youth Arts (IYA) team based in Mansfield.

The Youth Music Awards celebrate the most forward-thinking projects and people making, learning and earning in music. From artists and entrepreneurs to grassroots projects and young leaders, the event recognises an exciting range of trailblazers from across the scene.  
This great achievement was recognition of Jimmy's work with IYA on various Youth Music funded projects including the SUMP Urban Music Production project – working with disabled young people from across the county to produce, record and release their own urban music, and across all the BeiNG Music projects.
Jimmy said "It was great to be nominated in the first place, so when I won it was a huge surprise. It feels good that the work we have been doing is being recognised on a national level."
Peter Gaw, Chief Executive Officer for Inspire said, "We are really pleased for Jimmy and the recognition of his work and that of Inspire Youth Arts in working with Nottinghamshire young people to develop skills and experiences to take part fully in the opportunities music and culture offer. Our commitment to reducing barriers to participation in learning and culture for disabled young people is strong across Inspire, and very much led by the Inspire youth arts team for which this award is great recognition".
Based at The Old Library, the Inspire Youth Arts team offer exciting opportunities for young people to take part in arts projects and programmes in dance, music and digital. Alongside the 100-seat theatre space the arts venue offers a professional recording studio, exhibition area, café-bar, Mac suite and a number of meeting, teaching, rehearsal and workshop spaces.