Published 15th November 2021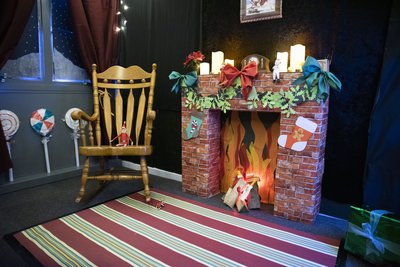 It's beginning to look a lot like Christmas at Inspire Libraries! 
Get in to the festive spirit with us as we bring you a whole host of Christmas-themed activities and events at your local library. From craft fairs, to children's activities, to Christmas carols, we're sure we have an event to even get the family Scrooge in to the festive spirit! 
Find out what's happening at your local library below.
Library
Event
Date and Time
Description
Arnold
Christmas Craft Fair
4 December, 10am - 2pm
Support local crafters and start your Christmas shopping! Free entry, just drop in.
Bingham
Christmas Craft Fair
4 December, 10am - 3pm
Support local crafters and start your Christmas shopping! Free entry, just drop in.
Burton Joyce
Children's Christmas Craft - Santa and his happy helpers
4 December, 10.30am - 12.30pm
Pop in and make a Christmas tree decoration.
Carlton
Christmas Beanstalk Crafts
Throughout December
Drop in and make a leaf for the beanstalk to help Jack climb to the top.
Golden Egg Hunt
Throughout December
Find the eggs hidden in the library and enter a prize draw.
Christmas Badges
18 - 23 December
Drop in on any of our open days and design your own Christmas badge using the badge machine.
Eastwood
Children's Christmas Crafts
23 December, 10.30 - 11.30am
to be made using the badge machine
Design Your Own Christmas Jumper
1 - 20 December, ongoing
Closing date 20 December
Christmas Tree Decorating
Throughout December
Make a Christmas decoration for the library and to take home.
Hucknall
Christmas Crafts
4 December, 10am - 2pm
Help us decorate our Christmas tree by making a paper bauble. Free event. No booking required, just drop in and join the festive fun!
Kirkby
Christmas Craft Fair
10 December, 10am - 2pm
Start your Christmas shopping and browse unique, handmade gifts.
Children's Christmas Crafts
Every Saturday throughout December, 10am - 12pm
4 December – Make your own Christmas bunting

11 December – Decorate an ornament for the Christmas tree

18 December – Make a Christmas tree table decoration
Santa Story Time
18 December, 11.30am
Come along for a Christmas story time with our special guest - Santa!
Mansfield
Christmas Heritage Café
14 December, 10.30 - 11.30am
Please join us for tea and a Christmassy chat over memories of Mansfield during the Yuletide period.
Dementia Friendly Film Screening of The Muppet Christmas Carol
16 December, 1.30pm
Tickets - £1 per person.* These screenings take place in the auditorium and are relaxed performances suitable for all, but particularly for those with dementia, their carers and families.
Newark
Christmas Craft Fair
27 November, 10am - 2pm
Support local crafters and start your Christmas shopping! Free entry, just drop in.
Ollerton
Christmas Storytime
8 December, 4pm
15 December, 4pm
22nd December, 4pm
Please join us for a reading of a Christmas story and then related crafts afterwards.
Christmas Crafts
From 22nd November and throughout December
Join us for some exciting Christmas crafts, including Penguin and reindeer cards, gingerbread houses, and Tree Angels.
Retford
Heritage Café - 'Celebrations'
2 December, 2 - 3pm
Tickets 50p and include refreshments. Booking advised.
Dukeries Ukeries Ukulele Band Performance
4 December
Drop in throughout the morning for a festive musical treat!
Children's Christmas Activities
Throughout December
Drop in to the library and design a snowman, find our impish elf, or create a Christmas tree decoration for our library tree.
Southwell
Late Night Christmas Shopping
25 November
Gifts to buy and children's crafts, plus mince pies and mulled wine.
Dickens' Christmas Voices
10 and 11 December, 7.30pm
A selection of seasonal readings from the pen of Charles Dickens. Tickets £9 (includes mulled wine and mince pie)
Stapleford
Children's Activity - Make a Christmas Tree Decoration
1 - 23 December
Help us deck the halls by creating a simple decoration for our wall mounted tree. Just drop in during opening hours.
Christmas Rattle, Rhyme and Roll
16 December, 11.15 - 11.45am
Booking required at the library.
Sutton-in-Ashfield
Sutton-in-Ashfield Library's 50th Birthday!
13 December, 10am - 4pm
Join us as we celebrate our birthday! Expect Christmas carolling, crafts, make n cake, Rattle Rhyme and Roll, and much more!
A House for an Elf
4 December, 1 - 2pm
Make your very own elf house.
Santa Storyhullabaloo
8 December, 10 - 10.30am
For under 5s. A visit from Santa during Storyhullabaloo!
Children's Christmas Crafts
11 December, 1 - 2pm
Create baubles for your tree, enjoy christmas card making and make a christmas jar. Suitable for all ages. Booking essential at the library.
Online Event
In the Bleak Midwinter: A Victorian Christmas in Nottingham
13 December, 7.30pm
Join Mildred Freeman, The Lady Historian, to discover all of Nottingham's Yuletide gossip and goings-on. Booking required*