Published 7th January 2022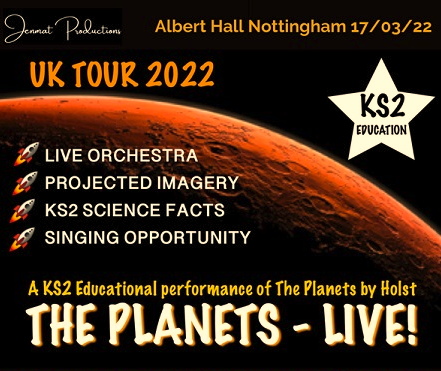 The Planets - LIVE
10.30am, Thursday 17th March 2022
Albert Hall, Nottingham 
This March, The Planets LIVE, a fantastic new educational event targeted at KS2 schools will be performed at Nottingham's Albert Hall.
Produced by Jenmat Productions, this interactive event will include a live orchestral performance of Holst's masterpiece The Planets and feature visual projections of the planets and educational slides based around the KS2 curriculum on Earth and Science. The Planets will be performed by a professional chamber orchestra and hosted by the Jenmat team.
Schools will be provided with the song lyrics and resources (including a backing track) well in advance of the concert so at the end of the performance, pupils get an opportunity to perform a space related song with the orchestra. 
We can't wait to welcome your classes to this inspirational concert led by professional musicians - do get in touch if this sounds of interest!
Ticket cost: FREE*
*Nottinghamshire Music Hub have funding for free tickets for approx. 70 places for 10 maintained / academy Nottinghamshire County based KS2 schools. If you are a county based school (not City of Nottingham), please do register your interest for tickets by emailing c/o nottsmusichub@inspireculture.org.uk
Funding is provided by the ongoing support of Arts Council England and the DfE.