Published 13th January 2022
Our motto for this month is New Year, New Book.  And what could be newer than a debut novel?  2022 already has particularly rich pickings for us, with a variety of exciting new voices and new stories to tell.  I hope this feature tempts you to try some of these titles, all available through Inspire Libraries.  Some have just appeared in paperback, others are brand new hardbacks, and yet others won't be published for a month or two.  Some are already making waves in the literary press.  But all offer that anticipation of something original. 
While not all debut titles or authors make it big, some burst onto the scene seemingly fully-formed.  It's hard to believe now that modern classics such as Kate Atkinson's Behind the Scenes at the Museum, Irivine Welsh's Trainspotting, or Zadie Smith's White Teeth were all debut novels.  I can only imagine how thrilling it would have been reading these great talents for the first time when they were originally published. As Leslie Jamieson in the New York Times says, reading a debut gives you "a chance to imagine yourself, as a reader, inside the greater wingspan of literary history…It has to do with the possibility of imagining how a certain luminous talent will keep developing over the years… It's the suggestion of future variations and deepening explorations, the embryonic blueprint of what we can't yet imagine." 
If you're seeking a new author to get stuck into, here are some of the best debut titles available.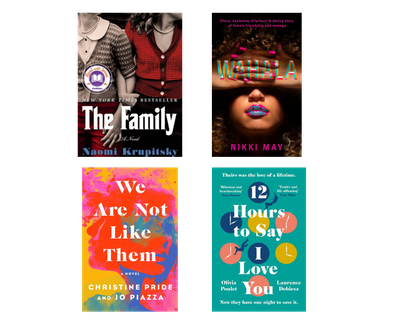 Starting with a bang, one of the most hotly tipped novels, described as "wildly entertaining" by The Bookseller, is Wahala by Nikki Way, coming out in hardback in January.  It follows the story of friends Ronke, Simi and Boo, all with mixed Nigerian and English heritage and trying to come to grips with their futures now they are in their thirties. As the blurb says, "Ronke wants a husband (he must be Nigerian); Boo enjoys (correction: endures) stay-at-home motherhood; while Simi, full of fashion career dreams, rolls her eyes as her boss refers to her 'urban vibe' yet again." Cracks in their friendship being to appear when a glamorous friend from the past arrives in town, determined to fix their futures but seemingly only wrecking them….

Naomi Krupitsky's The Family is also published in hardback in January.  Released in the USA last year, it was a New York Times bestseller and badged as being for fans of Elena Ferrante and Maggie O'Farrell.  Set in Brooklyn in 1948, it explores the lives of Sofia and Antonia, best friends since birth as part of their fathers' "the Family" – until Antonia's father tries to escape, driving a wedge between the girls as they grow into women, wives, mothers, and leaders.
Sticking with the theme of friendship, We Are Not Like Them by Christine Pride and Jo Piazza was published in hardback in October and described as "harrowing and heartening in equal measure …. a breath-taking tale of racial fissures, fury and friendship," by MP David Lammy.  Riley, a successful Black television journalist, and Jen, a working-class white woman, have been best friends since childhood. But when Jen's husband, a Philadelphia police officer, is involved in the shooting of an unarmed Black teenager, everything changes. As the community takes sides, Riley and Jen find themselves on opposing sides for the first time.
Another book with two authors, this time a husband and wife team, is 12 Hours to Say I Love You by Olivia Poulet and Laurence Dobiesz, coming in hardback at the start of February. Despite shout-outs on the cover from both Tom Allen and Sara Pascoe, this is described as both life-affirming and heart-breaking rather than comical. According to the blurb, as Pippa lies unconscious after an accident, she is aware of fragments. The day she met Steve, her best friend and the man who would become the love of her life. The heartbreak she felt tonight as she got into her car, her eyes blurry from tears. Meanwhile all Steve knows is that she is his world. And that he wasn't there when she needed him most. For the next twelve hours, Steve tells Pippa all the reasons he loves her. But is it too late?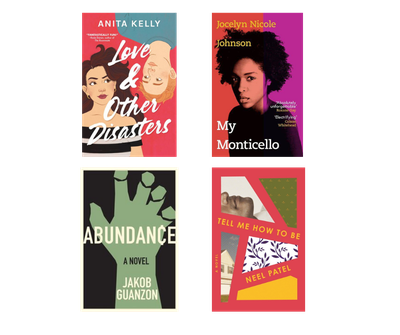 Moving onto something a bit more light-hearted, Anita Kelly's romantic comedy Love and Other Disasters is published in paperback in January, where the first openly nonbinary contestant on America's favourite cooking show falls for their clumsy competitor.  "A nonbinary protagonist in a mainstream romance is cause for excitement and the characters spark with chemistry. The heartwarming result will leave readers eager for more from Kelly" say Publishers Weekly.
Tell Me How to Be by Neel Patel, published in hardback in January, is said to be a darkly funny and heartbreaking debut about forbidden love and an Indian-American family confronting the secrets between them.  Akash is filled with shame for liking men, wanting to be a songwriter, and his alcoholism.  His mother, Renu, is also plagued with guilt, as Akash returns to help her pack up their family home.  The New York Times Book Review calls this "refreshing...defiant...consistently surprising" while Library Journal writes: "a wonderful read: necessary, aching, and alive".
Another heart-breaking recommendation is next (will this be the trend for 2022?) with Abundance by Jakob Guanzon coming out in hardback in the UK in January. Evicted from their trailer on New Year's Eve, Henry and his son have been reduced to living out of a truck. Six months later, Henry is down to his last pocketful of dollars, and little remains between him and the street. But today is Junior's birthday, and Henry has a job interview tomorrow. To celebrate, Henry treats Junior to dinner at McDonald's, followed by a night in a real bed at a discount motel. But after Henry has a disastrous altercation in the parking lot and Junior succumbs to a fever, father and son are struggling to hold things together and make it through tomorrow.  The Guardian describes this novel as "Phenomenal. Guanzon is an incredibly exciting new voice. . . . [Abundance] does one of the things I love about fiction, where it really allows you to walk in a character's shoes - books like this don't come around too often."
My Monticello by Jocelyn Nicole Johnson was published in hardback in November 2021 and highly recommended in The Bookseller as being "one of the best books of 2021 and a future classic". The story unfolds over nineteen days as a group takes shelter in Monticello, Thomas Jefferson's historic plantation home in the hills above their town after an attack by white supremacists. Told by Da'Naisha Love, a young Black descendant of Jefferson and Sally Hemings, the novel is a searing indictment of racism past and present, and a powerful vision of resistance, hope, and love.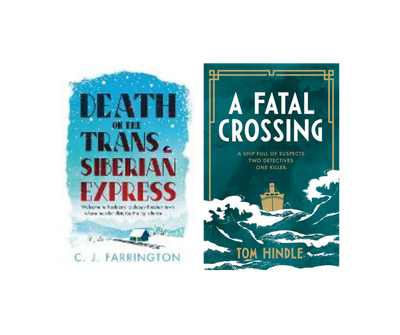 There's just space for a couple of new crime recommendations before I have to wrap this article up.  Death on the Trans-Siberian Express by C.J. Farrington was published in hardback in November, the first in the Olga Pushkin Mysteries. Olga Pushkin, railway engineer and would-be bestselling author, spends her days in a little rail-side hut with only Dmitri the hedgehog for company. One day Olga is knocked unconscious by a man falling from the Trans-Siberian Express, an American tourist with his throat cut from ear to ear and his mouth stuffed with 10-ruble coins. When another death soon follows, Sergeant Vassily Marushkin, finds himself falsely imprisoned by his Machiavellian superior and Olga resolves to help Vassily by proving his innocence. "Quirky and colourful" says the Times Crime Club.

Tom Hindle's A Fatal Crossing, out in hardback in January, is set on a 1920s ocean liner bound from Southampton to New York. When an elderly gentleman is found dead at the foot of a staircase, ship's officer Timothy Birch is ready to declare it a tragic accident. But Scotland Yard inspector James Temple is certain there is more to this misfortune than meets the eye. With just days remaining until they reach New York, and Temple's purpose on board proving increasingly suspicious, Birch's search for the culprit is fraught with danger.  This homage to the Golden Age of crime is described by the publisher Century as "a fresh take on the classic locked-room mystery".
I've only had room to cover a few of the exciting debuts being published this year, but if you head to our Debut Novels Pinterest Board there are over 40 different titles.  And let's make a date to look back at this feature in five years and see how these books have stood the test of time. I'm sure we'll be hearing more from these talented authors.
Written by Ann Penn