Published 18th March 2022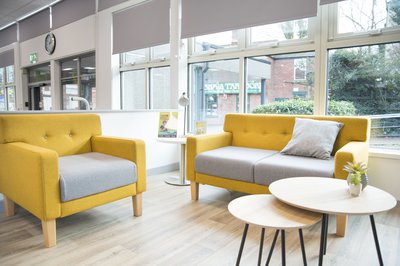 Nottinghamshire County Council, partnering with Inspire who deliver Nottinghamshire Libraries on their behalf is among more than 60 galleries, museums, libraries and cultural venues to receive Government's Cultural Investment Fund (CIF)

Awarded through the Libraries Improvement Fund (LIF) strand of the funding, this award will create 6 village hub libraries.
Galleries, museums, libraries and cultural venues across the country, including Inspire who deliver Nottinghamshire Libraries on behalf of Nottinghamshire County Council, are to benefit from almost £50 million of funding which will improve people's access to the arts, safeguard cultural assets for future generations and power economic growth through culture.
Nottinghamshire County Council partnering with Inspire has been awarded a grant of £170,000 by the Department for Digital, Culture, Media and Sports, delivered by Arts Council England.
The project aims to create community hubs with vibrant libraries at their centre in six Nottinghamshire villages.  Bircotes, Bilsthorpe, Blidworth, Burton Joyce, Langold and Woodthorpe libraries spaces will be reimagined and re-configured to create more flexible library and community spaces. This investment will enable an improved range and quality of library service offer and create centres that can be used by local communities for an improved range of services and activities.
Councillor Cottee, Chairman of the Communities Committee at Nottinghamshire County Council said:
"With libraries already at the heart of Nottinghamshire life, the grant will help us provide further support to key communities. Partnering with Inspire who deliver culture, learning and libraries on our behalf, our shared vision to create community hubs with re-imagined library spaces underlines our commitment to delivering a great library service."
Darren Henley, Chief Executive Officer, Arts Council England, said:
"Our artists, arts organisations, museums and libraries are experts in making villages, towns and cities better places to live, work, visit or play. This investment means they'll be able to help more people across England to lead happier, more creative lives".
Arts Minister Lord Parkinson, said:
"Culture is the bedrock of society. It brings people together, entertains and informs us, and helps us to understand our common past and shared future.  
"This will help them to continue their great work, advance our work to level up access to arts and culture so they can be enjoyed by people no matter where they live, and protect these cherished institutions for future generations to enjoy."
The Cultural Investment Fund will see £48 million distributed to 63 organisations. It is allocated through three streams: £24 million through the Cultural Development Fund, £18.8 million through the Museums Estate and Development Fund, and £5 million through the Libraries Improvement Fund. The announcement follows a concerted effort by the government to support the country's vital cultural organisations.
The Libraries Improvement Fund is helping transform library services in England by helping them upgrade their buildings and digital infrastructure so they can respond to the changing ways people use them.