Published 25th April 2022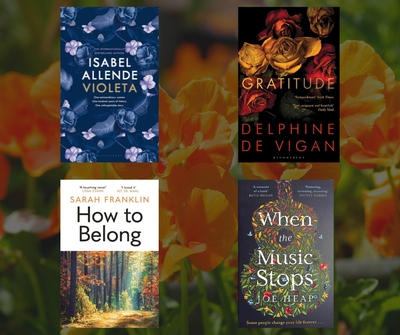 Violeta comes into the world on a stormy day in 1920, the first daughter in a family of five boisterous sons. From the start, her life is marked by extraordinary events, for the ripples of the Great War are still being felt, even as the Spanish flu arrives on the shores of her South American homeland almost at the moment of her birth. Through her father's prescience, the family will come through that crisis unscathed, only to face a new one as the Great Depression transforms the genteel city life she has known. Her family loses all and is forced to retreat to a wild and beautiful but remote part of the country. There, she will come of age, and her first suitor will come calling. In a letter to someone she loves above all others, Violeta recounts devastating heartbreak and passionate affairs, times of both poverty and wealth, terrible loss and immense joy. 
Marie owes Michka more than she can say - but Michka is getting older, and can't look after herself any more. So Marie has moved her to a home where she'll be safe. But Michka doesn't feel any safer; she is haunted by strange figures who threaten to unearth her most secret - buried guilt - guilt that she's carried since she was a little girl. And she is losing her words - grasping more desperately day by day for what once came easily to her. Jerome is a speech therapist, dispatched to help the home's aging population snatch and hold tight onto the speech still afforded to them. But Michka is no ordinary client. Michka has been carrying an old debt she does not know how to repay - and as her words slide out of her grasp, time is running out. 
In the follow up to her acclaimed novel 'Shelter', Sarah Franklin returns to the Forest of Dean, this time exploring what it means to belong to a rural community in a rapidly changing world. Jo grew up in the Forest of Dean, but she was always the one destined to leave for a bigger, brighter future. When her parents retire from their butcher's shop, she returns to her beloved community to save the family legacy, hoping also to save herself. But things are more complex than the rose-tinted version of life which sustained Jo from afar. Tessa is a farrier, shoeing horses two miles and half a generation away from Jo, further into the forest. Tessa's experience of the community couldn't be more different. Now she too has returned, in flight from a life she could have led, nursing a secret and a past filled with guilt and shame. 
This is the story of Ella. And Robert. And of all the things they should have said, but never did. Ella has known Robert all her life. Through seven key moments and seven key people their journey intertwines. From the streets of Glasgow during WW2 to the sex, drugs and rock 'n' roll of London in the 60s and beyond, this is a story of love and near misses. Of those who come in to our lives and leave it too soon. And of those who stay with you forever.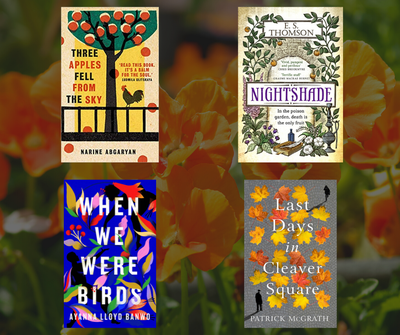 In a remote village high in the Armenian mountains, a close-knit community bickers, gossips and laughs. Their only connection with the outside world is an ancient telegraph wire and a perilous mountain road that even cows struggle to navigate. As they go about their daily lives - harvesting crops, making baklava, tidying their houses - the villagers are sustained by one thing: their belief in magic. But when 58-year old Anatolia becomes pregnant, it looks like the fortunes of this isolated village are about to change. 
London, 1851. Restless and bored after a long hot summer, apothecary and poison expert Jem Flockhart decides to redesign her physic garden. But plans are thrown into confusion when a man's skeleton is unearthed from beneath the deadly nightshade, a smaller, child-like skeleton curled at its feet. The body bears evidence of knife wounds to its ribs and arms, and is accompanied by a collection of objects: a brass bowl, a curious coin-like token, a set of ivory sculls. The police claim the victim is too long-buried for answers to be found, but for Jem, a corpse in her own garden is something that cannot be ignored. The plans to the garden, laid out some 40 years earlier, reveal a list of 5 names. When Jem and Will start asking questions, the murders begin. 
Darwin is a down-on-his-luck gravedigger, newly arrived in the city of Port Angeles to seek his fortune, young and beautiful and lost. Estranged from his mother and the Rastafari faith she taught him, he is convinced that the father he never met may be waiting for him somewhere amid these bustling streets. Meanwhile in an old house on a hill, where the city meets the rainforest, Yejide's mother is dying. And she is leaving behind a legacy that now passes to Yejide: the power to talk to the dead 
It'ss 1975 and Francis McNulty is nearing the end of his life but feeling far from peaceful. A veteran of the Spanish Civil War, he is tormented by grief and guilt about a brief, terrible act of betrayal from that time; and he's started seeing his old nemesis on the street, in the garden and now in his bedroom. Neither he nor his daughter Gillian, who lives with him in Cleaver square, know what to do. When Gillian announces her impending marriage to a senior civil servant, Francis realises that he must adapt to new circumstances - and that the time has come to confront his past once and for all.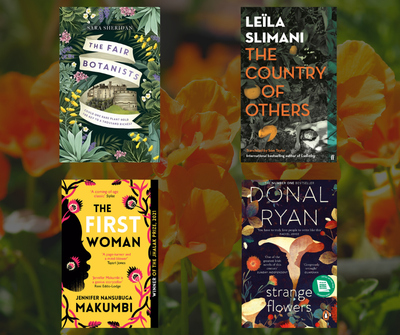 It's the summer of 1822 and Edinburgh is abuzz with rumours of King George IV's impending visit. In botanical circles, however, a different kind of excitement has gripped the city. In the newly-installed Botanic Garden, the Agave Americana plant looks set to flower - an event that only occurs once every few decades. When newly widowed Elizabeth arrives in Edinburgh to live with her late husband's aunt Clementina, she's determined to put her unhappy past in London behind her. As she settles into her new home, she becomes fascinated by the beautiful Botanic Garden which borders the grand house 
Alsace, 1944. Mathilde finds herself falling deeply in love with Amine Belhaj, a Moroccan soldier billeted in her town fighting for the French. After the Liberation, Mathilde leaves her country to follow her new husband to Morocco. But life here is unrecognisable to this brave and passionate young woman. Suffocated by the heat of the Moroccan climate, by her loneliness on the farm, by the mistrust she inspires as a foreigner and by their lack of money, Mathilde grows restless. As violence broods and Morocco's own struggle for independence grows daily, Mathilde and Amine's refusal to take sides sees them and their family at odds with their own desire for freedom. 
Smart, headstrong Kirabo is raised by her grandparents in rural Uganda. But as she enters her teens, she starts to feel overshadowed by the absence of the mother she has never known. At once epic and deeply personal, 'The First Woman' is the bold and piercing story of one young girl's discovery of what it means to be a woman in a family, a community and a country that seem determined to silence her. 
In 1973, 20-year-old Moll Gladney takes a morning bus from her rural home and disappears. Bewildered and distraught, Paddy and Kit must confront an unbearable prospect: that they will never see their daughter again. Five years later, Moll returns. What - and who - she brings with her will change the course of her family's life forever.