Our well-established programme provides young people with their first steps in a career in painting and decorating.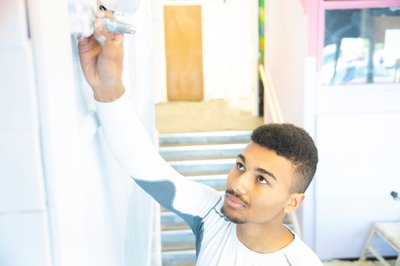 This course involves learning about customer relations and expectations, working in a construction environment, and understanding and developing new skills with the use of different tools. 
We also cover:
Health and safety and good practice in the workplace
Good housekeeping
Smoothing down walls in preparation for decorating
How to remove defects in a wall and woodwork
How to apply varying paint finishes with different types of paint
Basic wallpapering on walls and ceilings
How to finish work to a high standard 
Upon completion, you may wish to progress to Level 2 or 3 Painting and decorating. You could also complete a Traineeship, Apprenticeship, another vocational course or seek employment in the sector. 
This course takes place at Eastbourne House, Sutton-in-Ashfield, where we have a purpose-built workshop. 
To enrol or to find out more, call 0115 804 3611, email learning@inspireculture.org.uk or just pop in to one of our bases! You can also pick up one of our brochures from a local library.