Little Seeds Music and Z Arts present: Luna Loves Library Day - The Musical
Join Luna and her Dad for an adventure among the library shelves in this exciting new musical for  children.
Touring Inspire Libraries 6 - 8 March 2024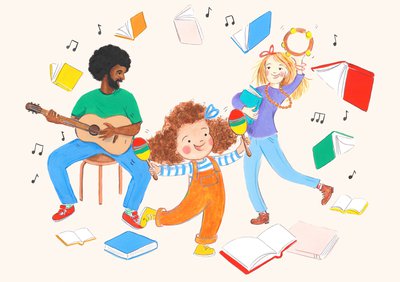 During the week of World Book Day, Inspire Libraries are hosting performances of Luna Loves Library Day – The Musical, for school groups.   
Based on the critically acclaimed book by Waterstone's Children's Laureate Joseph Coelho and illustrator Fiona Lumbers.

This new musical is perfect for children aged 5 – 7. 
Show Information
Luna looks forward to one special day… Library Day! It's the day when she discovers magic among the library shelves, from dinosaurs to mummies,  unexplained mysteries to monsters and magic. But for Luna, Library Day is also a chance to spend time with Dad, making it all the more special.

Based on the critically acclaimed book by award winning poet, author and Waterstones Children's Laureate Joseph Coelho and illustrator Fiona Lumbers, this show had been adapted for stage by Joseph Coelho with music and lyrics by David Gibb. 
Join Luna and Dad as they discover magic and mystery, laughter and sadness and, through the power of stories, even start to mend their own history. 
Luna Loves Library Day - The Musical trailer
Booking Information
Luna Loves Library Day - The Musical tours to three libraries for performances for schools.
| Date | Library | Availability |
| --- | --- | --- |
| Wednesday 6 March 2024 | Worksop Library | AM session available |
| Thursday 7 March 2024 (World Book Day) | Sutton-in-Ashfield Library | AM session available |
| Friday 8 March 2024 | Mansfield Central Library | FULLY BOOKED |
Cost:  £90 per class plus VAT (Discounted rate made possible by Inspire Libraries'  Arts Council England funding to support local children to have the opportunity to experience theatre, at their local library.) 
Age suitability:  Key stage 1  

Performance times:   10.30am or 1.30pm  

Running time:  60 minutes 
Capacity:  60 children per performance (there is flexibility please enquire) 

Key themes:  Books, Reading, Music, Family relationships, Caribbean cultural heritage.   
A learning resource guide is available to maximise learning opportunities 
Whilst the show gently explores the theme of parental separation, it is full of joy, laughter, music and lots of chances to join in. 
Contact
To find out more or to book places for your school contact.
Further Information
Inspire works with our partners The Spark Arts for Children to ensure we present quality performances from theatre companies around the UK, bringing arts and culture to your local library and providing a memorable experience for your pupils.

Performances take place either in the children's library (for performances at Worksop and Sutton-in-Ashfield libraries)  or a separate meeting space (for performances at Mansfield Central Library).  Creating a friendly and relaxed atmosphere for children and school staff.  
For Luna Loves Libraries - The Musical, children will sit on the floor, with chairs available for adults.
We ask that groups arrive ready to be seated around 10 minutes before the performance start time to ensure everyone is settled for a prompt start.
We are flexible to the needs of individual pupils, there will always be space for a child to move away from the show, if for any reason they need a break from the action and we'll discuss any access needs for pupils and staff during the booking process.
Library staff will always be on hand throughout the visit to welcome classes and answer questions.

Once we know you would like to book classes from your school to see a performance.  We'll send a booking form to confirm the booking,  numbers attending and the process for payment.  
The booking form also outlines the responsibilities of each party.  As follows;
 The School's Responsibilities
The School shall:
Make appropriate arrangements to transport the children to the performance venue in good time for the start of the performance.
Provide staff to supervise the children during performances.
Obtain from the organiser any information required for a risk assessment.
Both parties shall maintain public and employer's liability cover in respect of its activities and staff.
Arrange payment for the performance  - to be received no later than 2 weeks before the event.
The Library Service Responsibilities
The Library Service shall:
Undertake contractual arrangements with the Visiting Company to present the Production in association with, our partner,  The Spark Arts for Children.
Pay all fees, accommodation and travel expenses for the Visiting Company.
Liaise with the venue over licensing and Health & Safety procedures
Both parties shall maintain public and employer's liability cover in respect of its activities and staff.
Provide information requested by schools in a timely manner.
Luna Loves Library Day is a co-production from Little Seeds Music and Z-arts. 
About Little Seeds Music
Little Seeds Music was established in 2015 with the mission to provide children and families with unforgettable, high quality musical experiences for all generations to enjoy and share together. Their work is supported and recognised by Arts Council England and they have created work in association with Half Moon Theatre, Z-arts, The Story Museum, and The Met, Bury.
As well as producing theatrical touring work, they also coordinate engagement projects across the country with a focus on providing opportunities for young people to develop songwriting and composition skills. 
About Z-Arts
With a year-round programme of arts activities and theatre productions, Z-arts is Manchester's dedicated venue for children and families. From drama, dance, music, yoga and arts and crafts activities to high-quality theatre productions for families, their work is influenced by their audiences and customers. Through their participation activities and creative learning, both inside and outside the building, Z-arts hear what families want from art, and they follow their lead.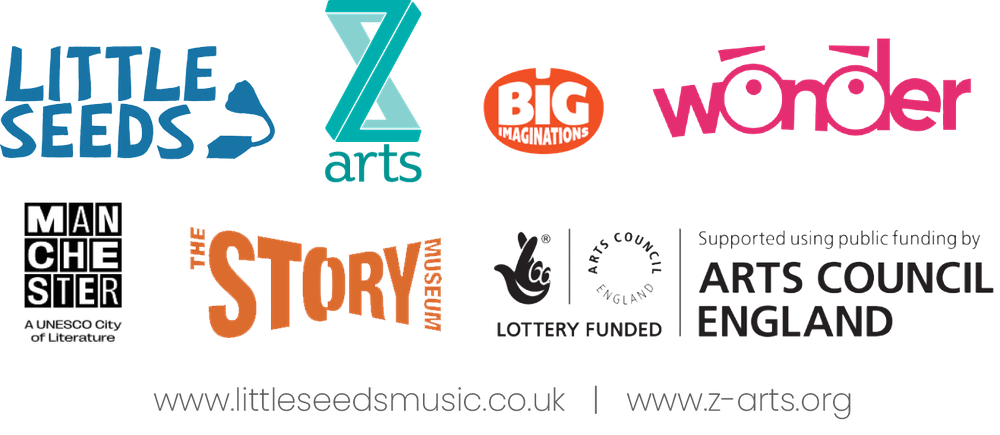 Programmed in association with The Spark Arts for Children.